We hate it when businesses fail
In the US on average, every three months
...
70,000

businesses failed while they thought they were making money.
Every QuickBooks business

needs CashFlowTool.com.
Beyond

a scoreboard
Powerful software that helps eliminate cash flow as a reason businesses fail.
Automatic cash flow forecasting
Get powerful guidance
See anomalies
Does your business use QuickBooks?
check_circle_outline
This is the tool for you
Is your business under $20M in annual revenue?
check_circle_outline
This is the tool for you
Tired of manual forecasts?
check_circle_outline
This is the tool for you
Cash flow made easy
for you
See your future
Patent-pending CashLearn™ AI predicts your future with confidence, so you can understand your current and future cash flow situation.
check_circle_outline
Eliminate surprises
Never be surprised again. We'll notify you immediately of any unexpected bills, overdue payments or out-of-cash predictions.
timer
Make quicker decisions
Understand your cash flow with a simple, yet powerful heatmap of daily cash balances, highlighting any forecasted cash flow shortfalls.
Explore scenarios
Buying new equipment? Starting an expansion? Need a loan? See the cash flow impact before you make the decision.
people
Collaborate together
Keep everyone on the same page by inviting your accountant, CFO, and other key team members. Everyone's in sync.
mobile_friendly
Mobile ready
Enable on-the-go cash flow control with our free mobile app for iOS or Android. Comment or check your Cash Flow Calendar anytime, anywhere.
The must-have companion for QuickBooks online and desktop
The only cash flow software seamlessly integrated with QuickBooks online and desktop -- no data entry to start.
This is the tool firms have been waiting for. Instant insights, customizable dashboards, and a clean user interface. The information is portrayed in a way that is digestible by the client yet detailed enough for the accounting professional. Finally, there is a tool that I can use across my entire client base without regard to size or industry, and with less than 5 minutes of setup work. Finagraph is upping the game for advisory services.
One of the biggest fears of any small businesses is not having enough cash, for over 20 years it's been a struggle for our business to effectively predict cash flow. CashFlowTool.com is an essential business tool for my company and I can operate my business with more confidence than ever before.
SEE MORE TESTIMONIALS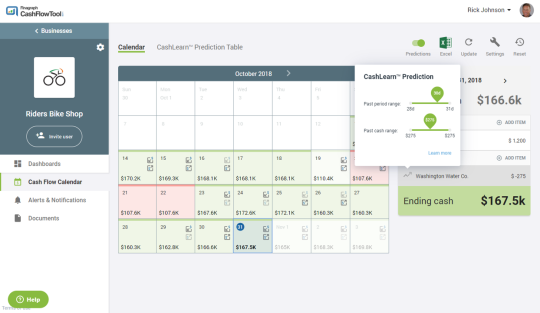 CashLearn™ patent-pending prediction technology
Patent-pending artificial intelligence predicts the future with confidence, so you can understand your current and future cash flow situation. You can track your daily cash balance, the best time to pay your bills, or when you need to get outstanding invoices paid.
LEARN MORE
Cash flow calendar
A simple yet powerful heatmap displays shades of green for positive cash balance days and red for any forecasted cash flow shortfalls. You can also quickly perform a powerful what-if analysis to decide the best time to get a loan or when to delay paying a bill, all so you can see the impact on your cash flow.
LEARN MORE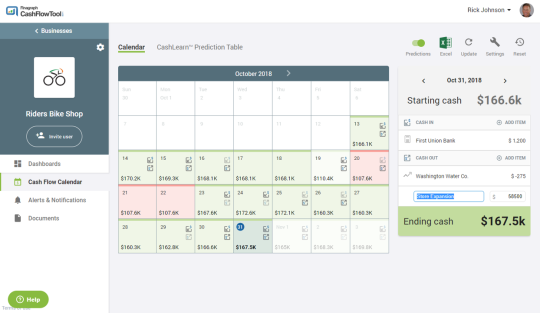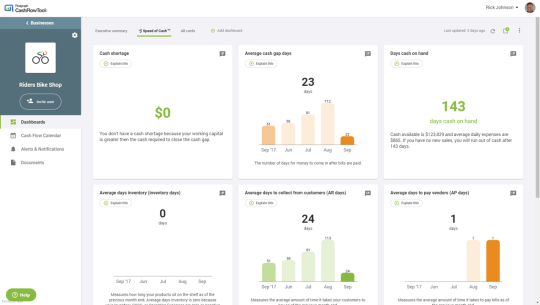 Speed of Cash™ dashboard
A comprehensive dashboard gives businesses insights about the speed at which cash comes in or out of your business so you can quickly adjust the levers to accurately control your cash flow.
Customizable Dashboards
You can see key critical metrics, that matter to you. Create your own dashboard or customize one to meet your specific needs. With over 30 essential cards, ranging from Cash on Hand to Cash Shortage to Average Days of Inventory, you have the critical information you need right at your fingertips.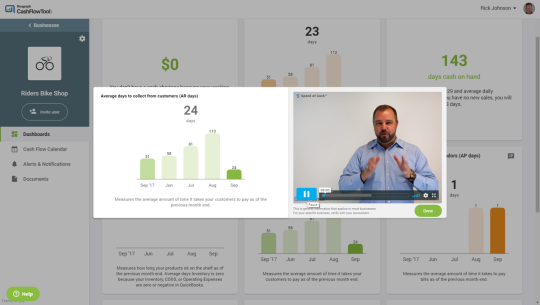 Built-in video coaching
Finagraph experts are built-in to quickly explain critical concepts in business owner friendly terms and give recommendations on what to do in key situations.
Anomaly detector and alerts
CashFlowTool.com automatically highlights unexpected bills, late payments that are due or out-of-cash predictions. This could save businesses from countless issues.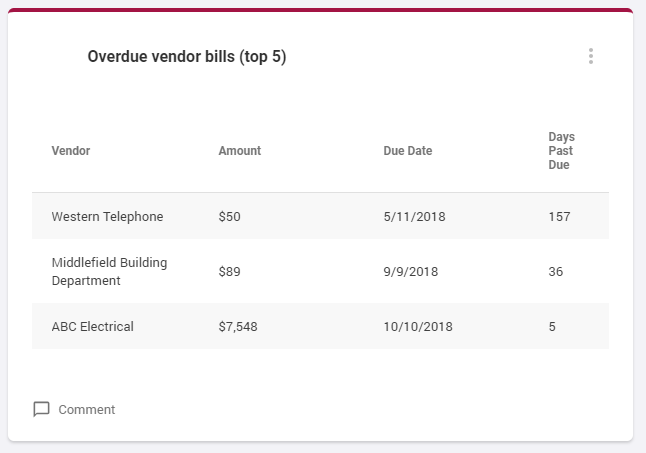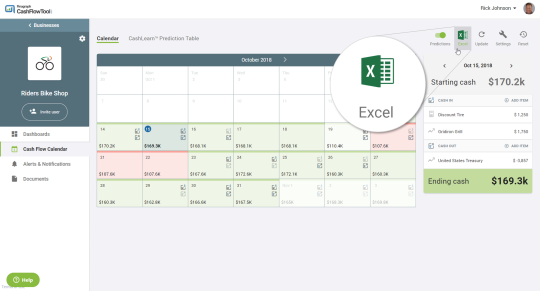 Cash Flow Forecast Excel Template
It's simple to see the complete cash flow forecast directly in Excel with preformatted templates for easy scanning and editing.
Watch a
demo
Customizable dashboards
Cash Flow Calendar
Built-in video coaching
Alerts and more...
Safe and
secure
CashFlowTool.com uses state-of-the-art security measures including bank level 256-bit SSL encryption. We adhere to a strict information security policy to ensure your data is always protected.