Cash flow made easy for

businesses

accountants
See your future
Patent-pending CashLearn™ AI predicts your future with confidence, so you can understand your current and future cash flow situation.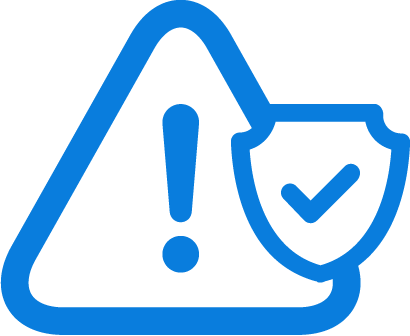 Eliminate surprises
With CashGuardian™, never be suprised again. We'll notify you immediately of any unexpected bills, overdue payments or out-of-cash predictions.
timer
Make quicker decisions
Understand your cash flow with a simple, yet powerful heatmap of daily cash balances, highlighting any forecasted cash flow shortfalls.
Explore scenarios
Buying new equipment? Starting an expansion? Need a loan? See the cash flow impact before you make the decision.
people
Collaborate together
Keep everyone on the same page by inviting your accountant, CFO, and other key team members. Everyone's in sync.
mobile_friendly
Mobile ready
Enable on-the-go cash flow control with our free mobile app for iOS or Android. Comment or check your Cash Flow Calendar anytime, anywhere.
Learn more about how CashFlowTool can help
The must-have companion for QuickBooks Online and QuickBooks Desktop
The only cash flow software that seamlessly connects with QuickBooks Online and QuickBooks Desktop -- no data entry to start.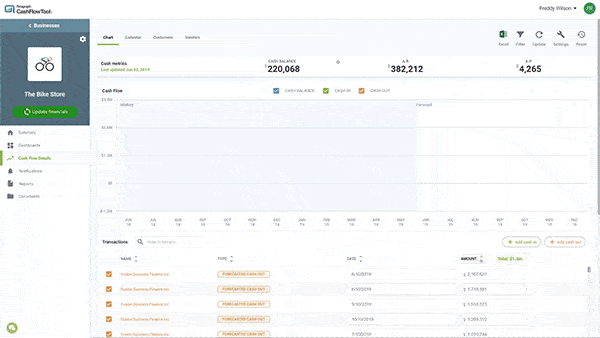 Cash Flow Forecast:
Visually see your future
See your historical cash flow for the last 12 months as well as a future forecasted cash flow for the next 6 months.
See your forecast by month or week by clicking anywhere on the chart to reveal your cash-in or cash-out transactions. Compare a future month to the same month a year ago or find top customers & vendors with a simple click.
LEARN MORE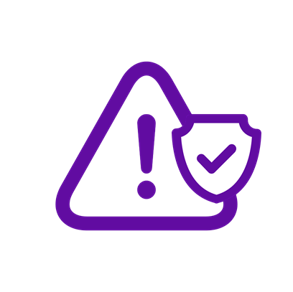 CashGuardianTM
Watches over your business, analyzes your cash details and alerts you to things that actually matter.
No cash surprises
Always know what's coming next
Alerts you to the things that matter most
Surfaces things that actually matter
check
Be alerted to unexpected bills
(like if your water bill is higher than normal)
check
Know when any customer is taking longer to pay than normal
check
Get a heads up about any cash shortages
check
Quick view of next week's total cash in and cash out
check
Checks previous week and the week ahead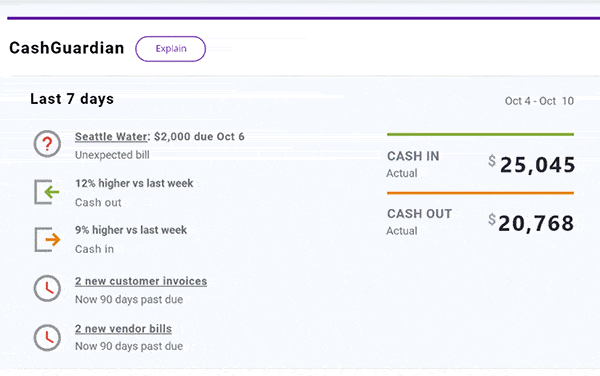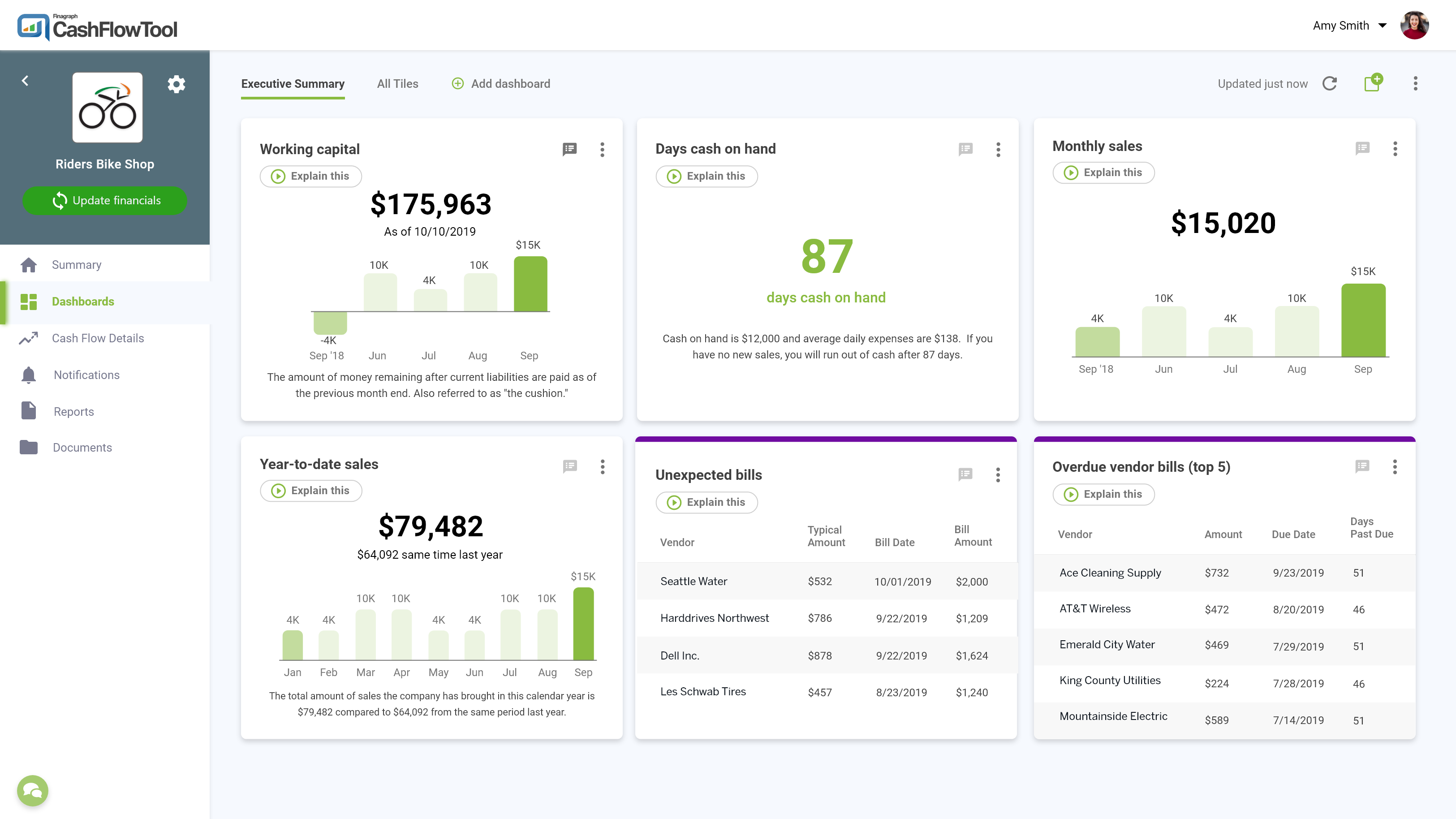 KPIs at your fingertips
See over 30 important business metrics. You can create custom dashboards to suit your business needs, such as a sales dashboard, or a top customers dashboard. It's simple to customize the dashboard with any cards that you like.
Built-in video coaching
Each KPI has one-click access to built-in video coaching, which explains the concepts in business owner friendly terms and gives recommendations on what to do in key situations.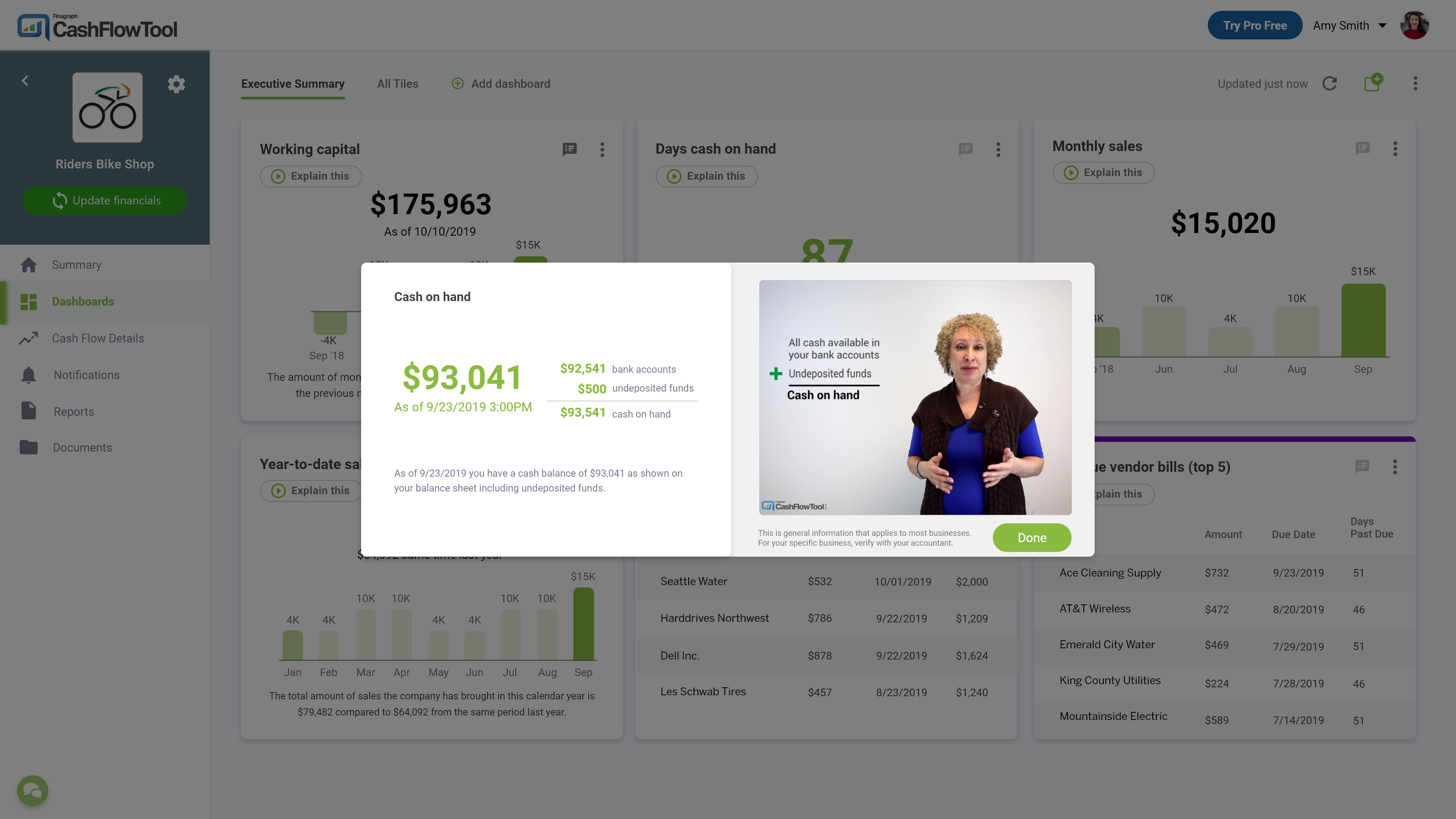 Cash Flow Calendar:
See by the day, week & month
A simple yet powerful heatmap displays shades of green for positive cash balance days and red for any forecasted cash flow shortfalls for a rolling 6 months in the future. You can also quickly perform a powerful what-if analysis to decide the best time to get a loan or when to delay paying a bill, all so you can see the impact on your cash flow.
SEE THE VIDEO
What-if scenarios
Need to hire a new VP of Sales? Upgrade your laptops or cell phones? Hoping to land a contract? See in real-time, the impact of a variety of scenarios to your cash flow.
SEE THE VIDEO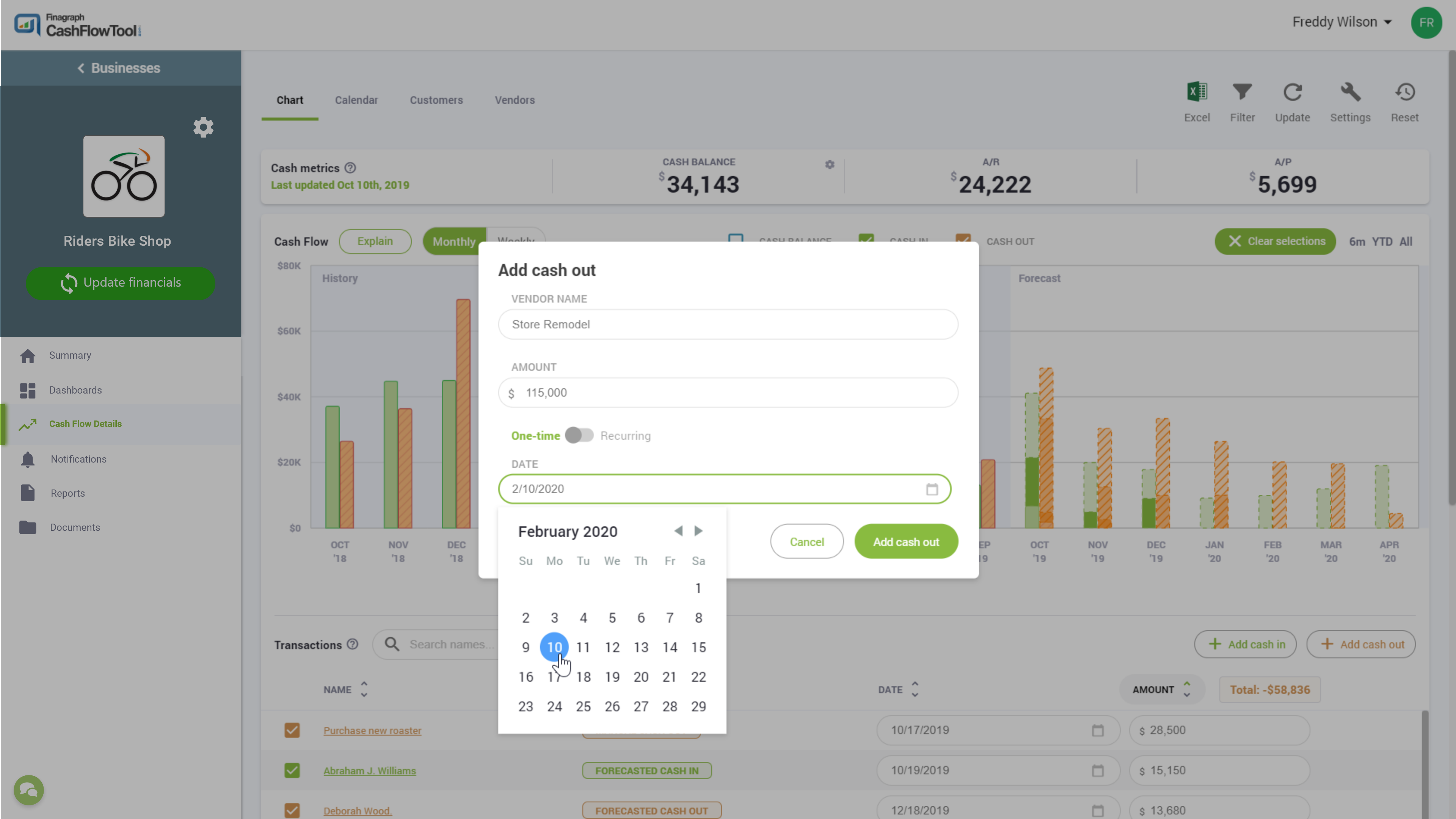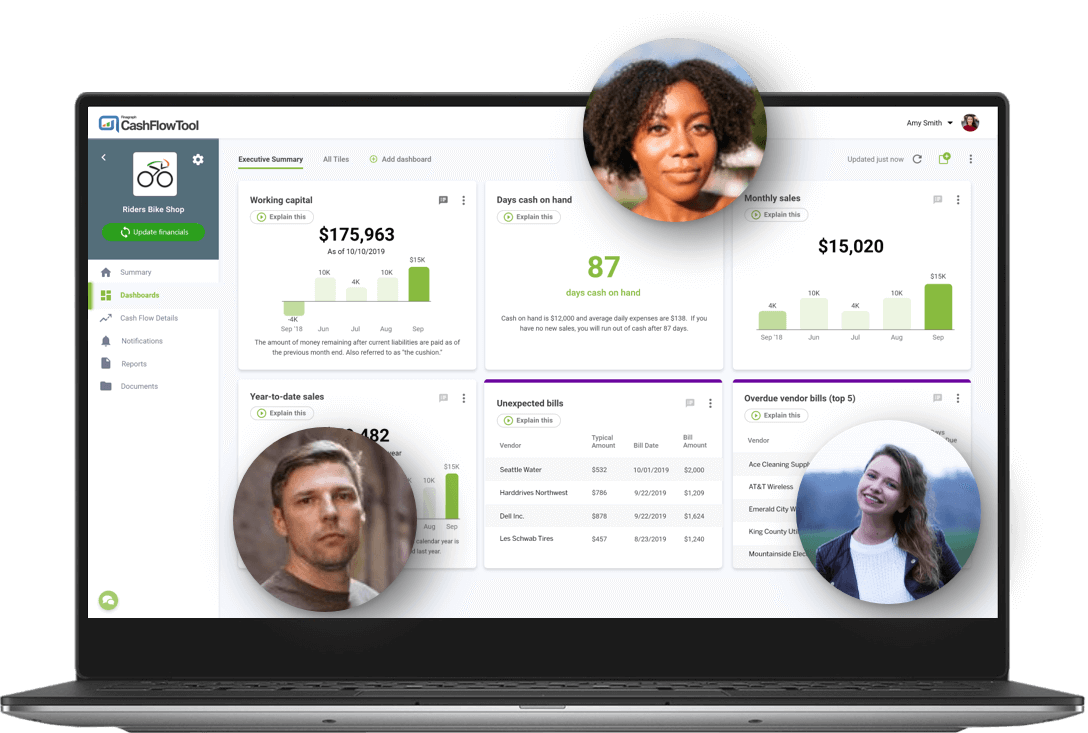 Collaborate with your team
It's easy to add team members, such as your sales and management team, or even your outside accountant so everyone is always on the same page. Team members can comment on alerts, anomalies or cash status, and respond instantly. You can also set permission by team members on all key features such as the Calendar, Dashboards and more.
SEE THE VIDEO
Export your forecast to Excel
Quickly export your forecast to a fully formatted worksheet in Excel, where you can see all your cash-in and cash-out transactions. You can easily add, remove and edit transactions to see the impact on your cash flow!
SEE THE VIDEO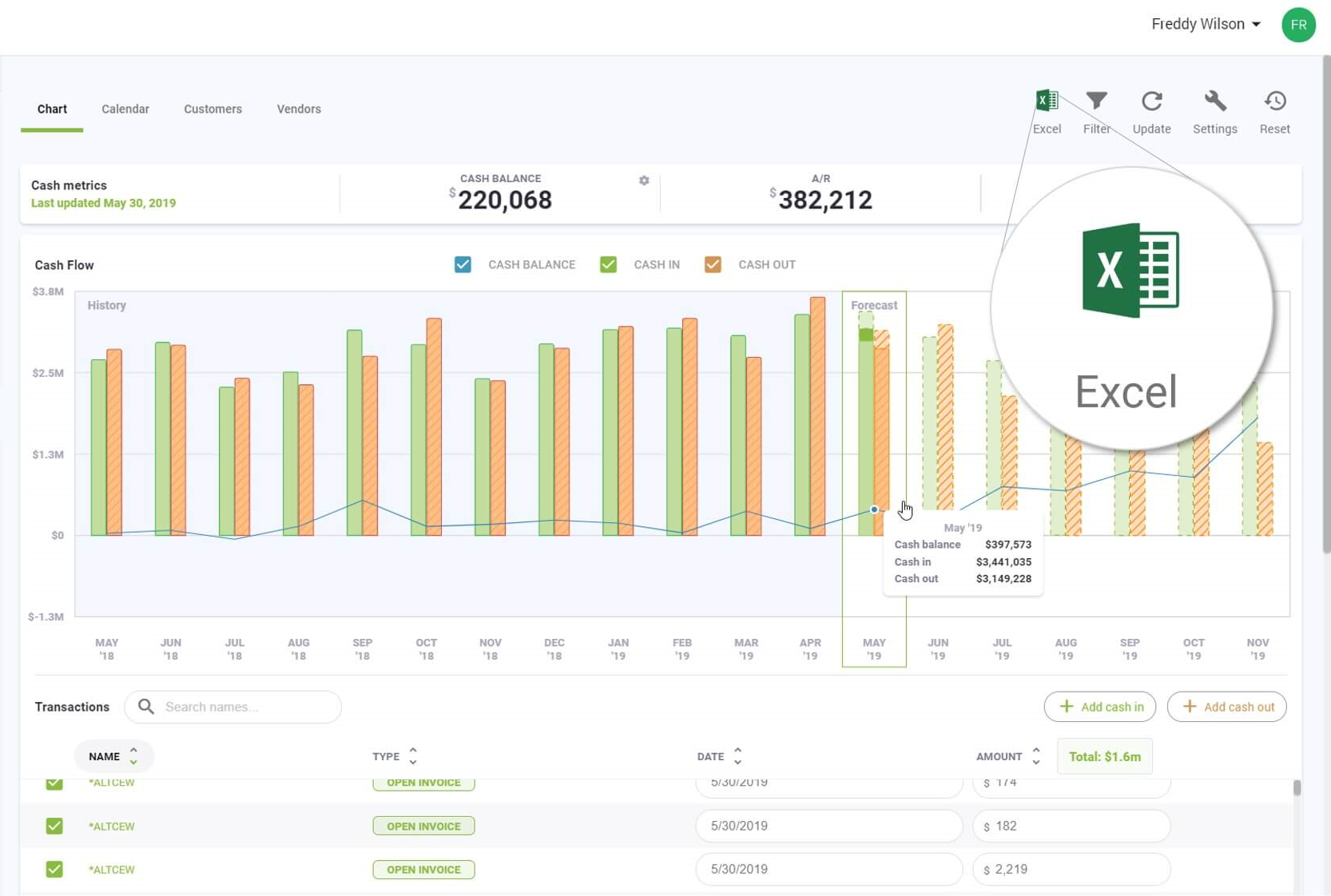 Ask the Finagraph Experts
Our very own experts are here to answer your cash flow questions. Submit a question, or check out previously answered questions.
ask questions
Read questions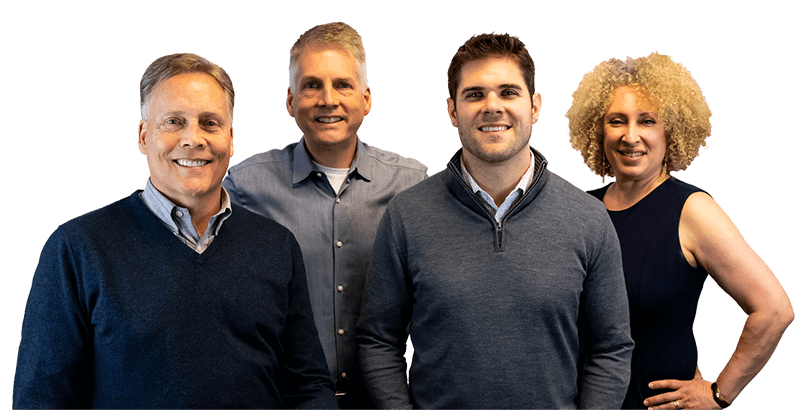 Get CashFlowTool Now
Sign up today and take control of your cash flow.