Your business is running QuickBooks Desktop. The main QB file is stored either on your PC or even better, stored on a server in your office. But what if the PC crashes? What if someone breaks in? Are you really prepared?
Have you ever considered what would happen to your business if you no longer had access to your QuickBooks? Most businesses who run QuickBooks Desktop have their QB file reside on a local PC somewhere in their office or they might have it stored on a server for access from many PCs. While this may have been simple to set up, it also poses many business risks such as:
What if the hard drive crashes on the PC or the PC fails (it's not a matter of if, but a matter of when)?
What happens if the server crashes?
What happens if you don't have a backup?
What happens if your business gets broken into or a fire breaks out?
If you have ever thought of any of these, then you might consider moving your QuickBooks into a hosted environment.
What is QuickBooks Hosting?
QuickBooks hosting allows you host QuickBooks on a remote server (or cloud server) which you can access from anywhere you have Internet access and is managed by a 3rd party. These providers provide automatic backup which gives you and your business peace of mind. From your PC or Mac, you access the remote desktop and the remote desktop behaves just like a regular Windows desktop PC. When using a hosting provider, it's like having a Windows desktop that you can access anywhere.
What is the experience like?
The experience will differ depending on the provider you choose, but most use Windows Remote Desktop and the Remote Desktop (RDP) Client.
Using Windows Remote Desktop client, you specify the provider's name, your username and password. You will establish a secure connection to the server and a new window will appear showing you your virtual desktop. This desktop behaves exactly like Windows does. You can maximize this window and use your virtual desktop full screen, or choose to run within a window.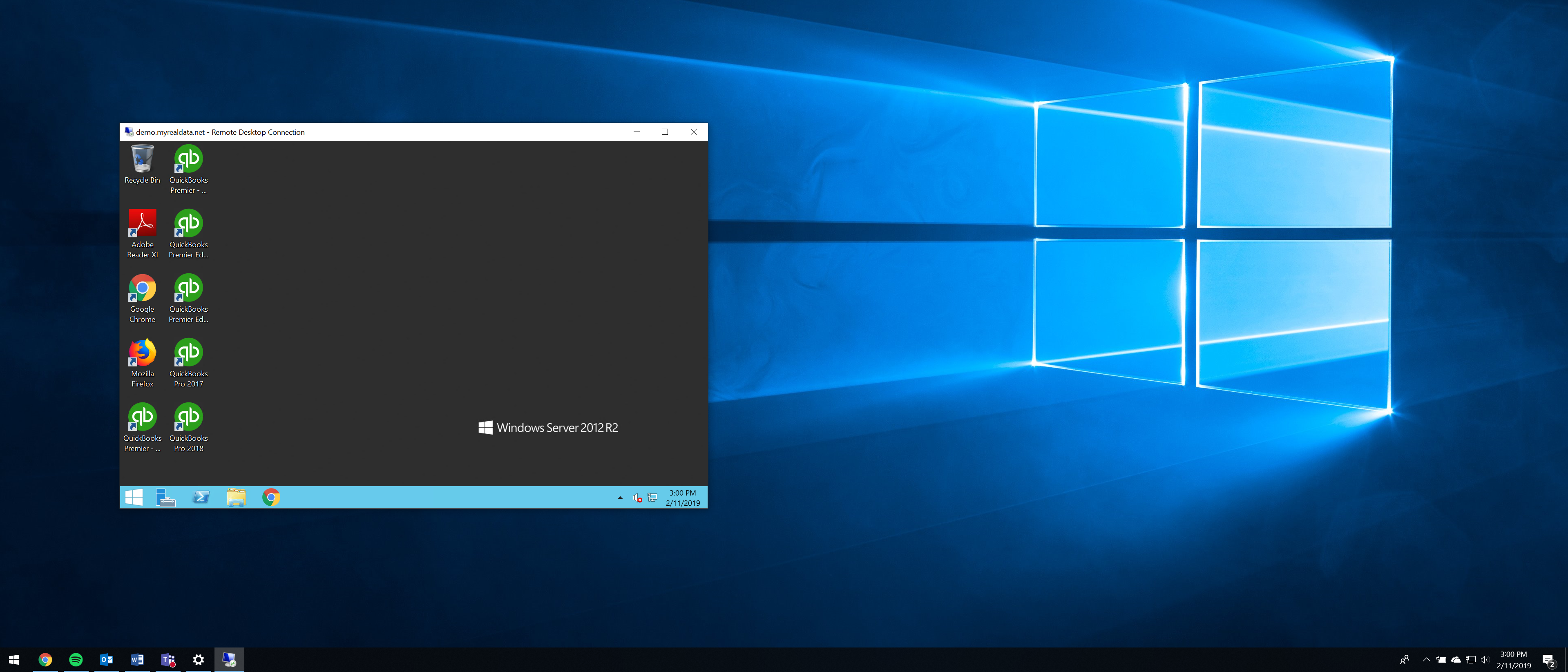 Remote Desktop allows you to seamlessly use your local printer, access your local drives, and copy and paste between apps running on your local PC and your remote server.
Why you should use QuickBooks hosting vs. an on-site server
Work from anywhere you have Internet Access
Your desktop is fully managed by a professional support team
Company files are backed up and stored off-site
You are protected from both local and remote hardware failures
Work from home or the office
Once QuickBooks Desktop is hosted on a remote server, you can access your remote desktop from almost any device including PC, Mac, Android and even an iPad. Now you can work from home or away from the office when needed. All you need to have is your device and an Internet connection.
Desktop fully managed by a professional support team
You have a business to run and don't need be worried about maintaining hardware and software for your organization. When using a hosting provider, they are responsible for maintaining both the hardware and the software. They make sure Windows is always up-to-date, the latest QuickBooks Desktop updates are installed, and your server is protected from virus and malicious threats. Most hosting providers provide 24/7 support and can perform maintenance tasks at night or over the weekend to avoid unnecessary down times.
QuickBooks company file backup
Hosting providers can also backup your company files on a regular basis ensuring you always have a backup should the need arise. Backups are stored off-site which helps protect you in the event of a fire or natural disaster.
Safer and better protection against thief and hardware failures
Hosting providers protect you against hardware failures. Should your personal computer fail, you can still access QuickBooks Desktop on any other computer. If you drop your laptop or your laptop is stolen, you can purchase a replacement and be up and running again in a matter of minutes.
If you currently have your company files stored on a local server which is on-site, you are at risk of the hardware failing or worse the hardware being stolen. Hosting providers' data centers are built to be protected and secure. Their buildings are physically secure and they tightly control access to the building.
When using a hosting provider, if the hardware used to host your desktop were to fail, they can transfer your setup to a new server within minutes saving you from down times. Some hosting providers support geo-redundant environments so that should there be an issue at one of their data centers they could instantly switch you one of their other data centers.
How to migrate from on-site to a hosted environment
The specific steps you will use will be different depending on the hosting provider you choose, but the following are the general steps. The process can take a few hours to a couple of days to complete depending on your provider and size of your company.
Provide the hosting provider licensing information for QuickBooks. They will install QuickBooks Desktop on their server using your licensing information.

Copy company file(s) to hosting provider file server.

Connect to your new remote desktop and start QuickBooks Desktop.

Ensure your new hosting environment is fully working as expected.

Onboard and train your staff on using remote desktop to access QuickBooks Desktop.

Discontinue use of your local QuickBook Desktop instance.
What to look for when choosing a QuickBooks hosting provider
They support 3rd party QuickBooks Desktop Add-ins like CashFlowTool.

They provide 24/7 support via email, chat and phone.

They provide QuickBooks company file backup services.

They keep both Windows and QuickBooks Desktop up-to-date automatically for you.

They have a well-defined service level agreement and a proven track record of availability. 99.99% uptime.

Are running current version of Windows software. You don't want to be running QuickBooks on a decade old operating system.

Able to use Google Chrome as the default system browser

Have a well-defined onboarding process which makes it easy to migrate from a local version of QuickBooks Desktop to the hosted version.

They monitor server performance and can ensure great performance.

Has multiple data centers to protect you in case of a natural disaster.
If you are still using an on-site server to host your QuickBooks Desktop company files, you should consider migrating to a hosting provider. There are great options to choose from and you will save yourself the headaches managing your own server on-site while improving security and allow access on any device wherever you have an Internet connection.
CashFlowTool works with the following Hosting Providers:
| | | |
| --- | --- | --- |
| | | |
| How to configure CashFlowTool with Cloud9 | | How to configure CashFlowTool with RightNetworks |
| | | |
| | | |
| | | |