Understanding the Cash Flow Calendar
The Cash Flow Calendar presents predictions of future cash flows (cash coming in and going out) for a business in a daily calendar view, based on an analysis of past transactions. This feature can be used to help forecast future cash balances, putting you, or your clients if you are an accounting/bookkeeping firm, in a position to make better business decisions.
Unlike other cash flow apps which simply display accounts receivable and accounts payable due dates, CashFlowTool.com uses historical trends to forecast all money coming in and out of the business. This is performed using our patent-pending AI technology, called CashLearn.
Customers rarely pay on the actual due date, and payments can vary. Some customers pay early, while others always pay late. The Cash Flow Calendar predicts when a customer will pay and when you typically pay vendor based on past behavior. Over time, this forecasting model improves, providing even better forecasting.
How to read the Cash Flow Calendar
Heatmap
Shades of green show your highest to lowest forecasted cash balance days for each month
Shortfalls
Any forecasted cash shortfalls are highlighted in bright red
Details
Know the details of forecasted cash in and cash out for any specific day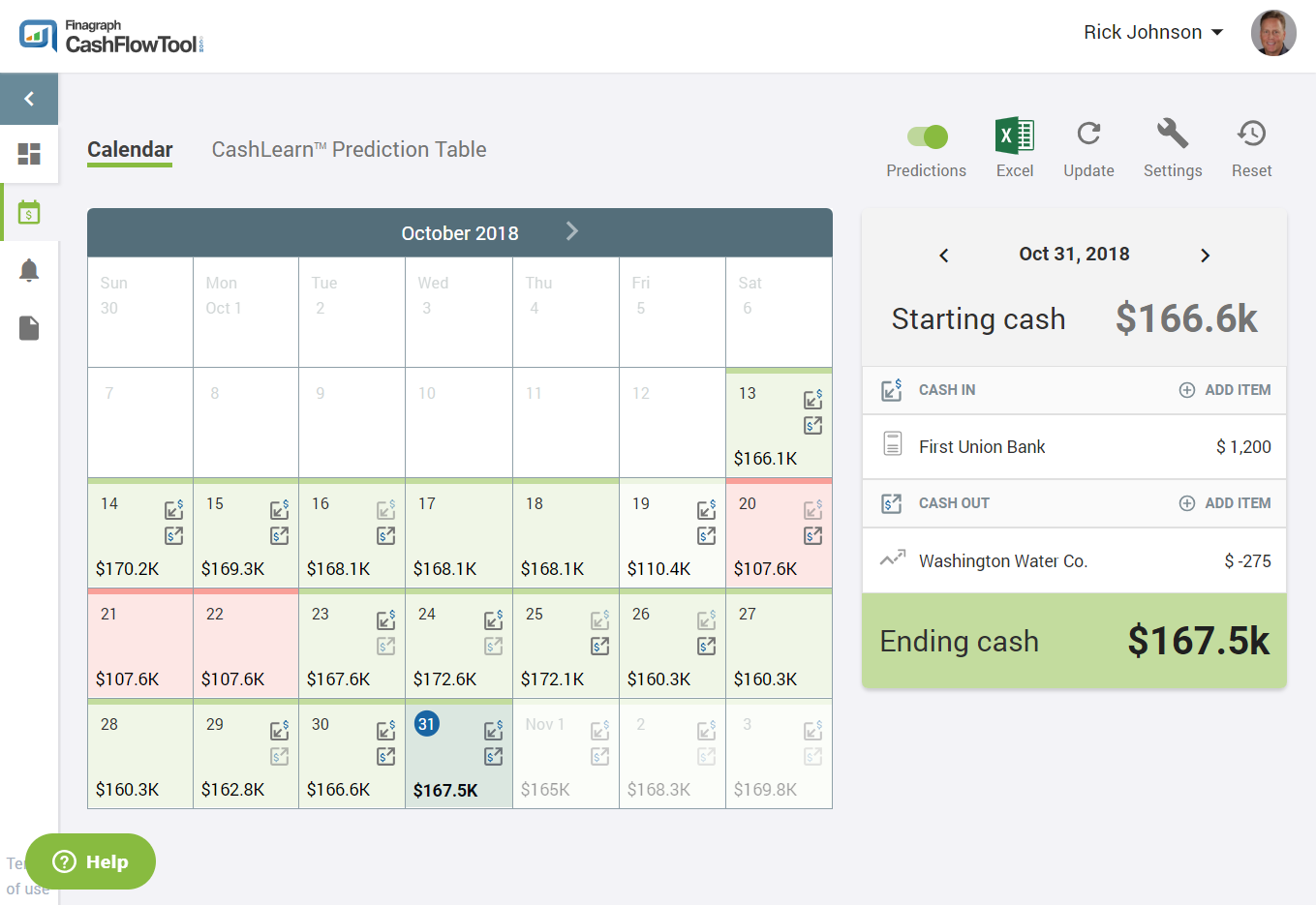 How the Cash Flow Calendar is generated.
The following outlines the QuickBooks data and steps used to create the Cash Flow Calendar.
Step 1: Starting cash balance
Your starting cash balance is pulled from QuickBooks using your bank accounts. (Note: this may differ from your bank statement balance if you have not reconciled these accounts in QuickBooks.)
To view your starting cash balance in QuickBooks, select Reports / Balance Sheet. Starting cash is Total Bank Accounts + Undeposited funds.
CashFlowTool.com includes all bank accounts, but you can manually override the starting cash balance. You can adjust the starting cash balance by clicking "Settings" in the top right.

Step 2: Forecasting outstanding accounts receivable (customer invoices)
Next, CashFlowTool.com pulls your outstanding customer invoices from QuickBooks and predicts the anticipated payment dates based on each customer's historical payment patterns. Each of these invoice payments are displayed as incoming cash flows on the Cash Flow Calendar.
Step 3: Forecasting outstanding accounts payable (vendor bills)
CashLearn predicts when you will pay these bills based on your payment history.
Step 4: Forecasting other recurring cash inflows and cash outflows
In addition to outstanding customer invoices and vendor bills, your business likely has other cash inflows (recurring customers) or cash outflows (recurring bills, like rent or utilities) that occur each month. The CashLearn technology analyzes the history of all these transactions and predicts their occurrence and amount on the Cash Flow Calendar.
If these predicted transactions are not expected to occur for the month, you can manually remove them by hovering over the transaction and selecting the 'hide' button.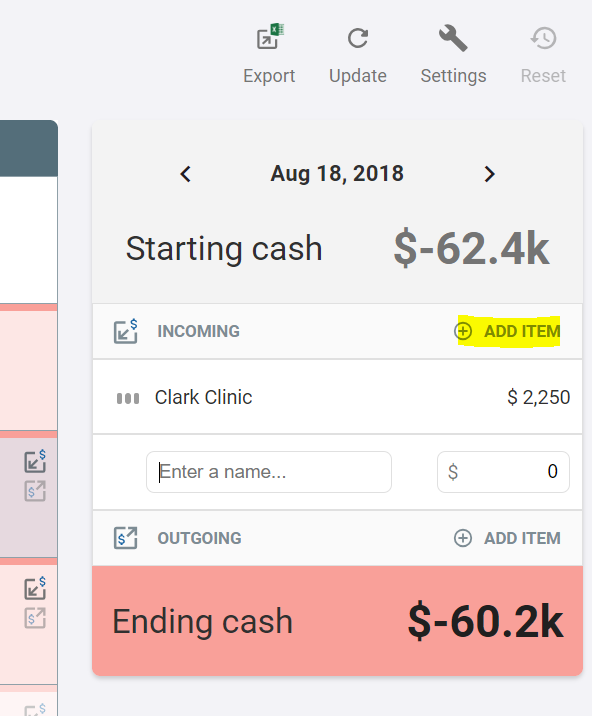 You're in control
The rest is up to you. You can add, delete, or edit any of the transactions in your Cash Flow Calendar. You can even export the results into a weekly formatted excel spreadsheet for maximum flexibility. Share with your team and gain cash flow visibility today.
Missing transactions?
CashLearn looks at all cash impacting transactions with a payee or customer specified in QuickBooks. If payee or customer is not provided in the QuickBooks data, CashLearn will attempt to use the transaction details in the memo field. This may result in less accurate predictions.
You can improve predictions by setting up rules in QuickBooks Online. These rules will automatically add a payee and categories to bank transactions during imports. See below for details how.
Review Bank account transactions
Downloaded transactions from your financial institution go to the 'For Review tab' on your QuickBooks Online Banking page. You can then review, categorize, and accept the transactions. You also have the option to match them to existing transactions on your company file.
Before adding transactions to QuickBooks, add a payee and set the category.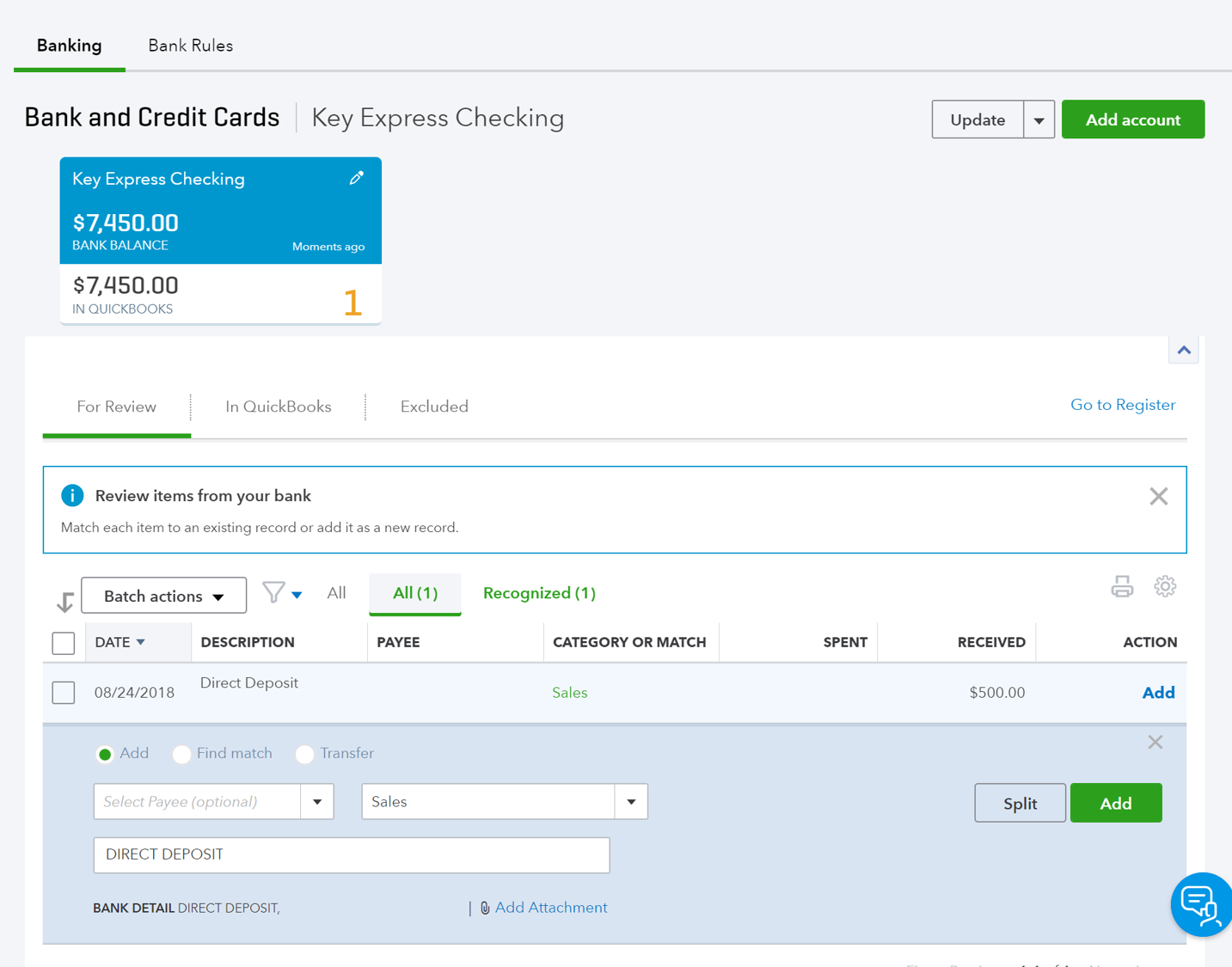 Using QuickBooks Online Rules to add payee or customer
When QuickBooks Online downloads transactions from the bank, it analyzes the bank data against your QuickBooks Online data. If you set up banking rules for transactions, Quickbooks uses those rules. If you did not, QuickBooks' suggestion for each downloaded transaction depends on whether you have existing QuickBooks transactions or not that have been previously categorized.
Add and match downloaded banking transactions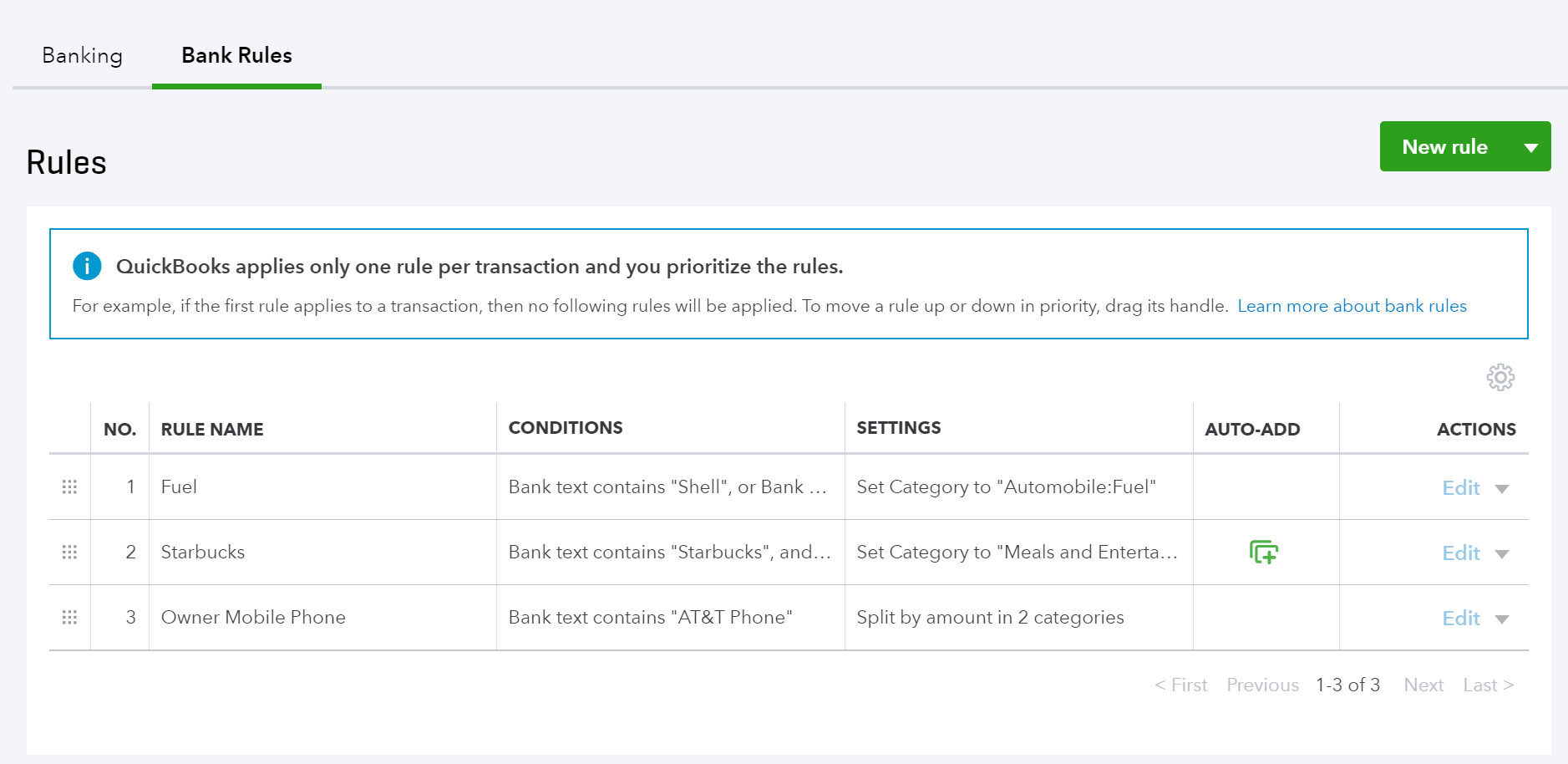 How to use the Cash Flow Calendar
Using the Cash Flow Calendar
Learn how to use the Cash Flow Calendar feature so you can make informed, educated decisions about today and can also anticipate tomorrow.
Understanding the "what-if" feature
Learn how to use the What-if capability of CashFlowtool.com which is powerful feature enabling you to perform a variety of scenarios to understand the impact to you cash flow today and tomorrow.