What better time to assess the state of your business than right after your busiest time of year?

Now I know what many of you are thinking, "I just recovered from tax season and first quarter taxes". Believe me, I understand.

However, this is the perfect time to review how this past busy season went. The information is still relatively fresh on your mind and as they say, hindsight is 2020. So why not see if your business is on track to meet your 2019 goals?
Our most successful partners perform a quarterly business review around the three most important areas of their business – people, process and profit.

Here are some example questions for reflection in each of those areas:
People

How are did our team perform during this busy season?

Were they more stressed than expected or did they roll with the waves as they came?

Could the team have used more internal help with either client delivery or administrative coordination?

As the leader of the company, was I available to troubleshoot challenges with my team's clients without micromanaging every aspect of the project? If not, what can I do to change that?

Did our team demonstrate the right expertise to assist our clients, or were we leaning too much on 1-2 of our rock-star employees?

Process

How did our internal (i.e., staffing) and external (i.e., workflows, deliverables) processes hold up this year?

How well did we deliver recurring client work? Were any deadlines missed because of the surge in tax work?

D

uring our client engagements, were we able to spot opportunities for additional services and value we could provide clients (i.e., assistance with cash flow planning and forecasting)?

Were we able to onboard new clients during the busy time? If so, how smooth was the process (for you and the client)?

Were we able to stay in communication with all our clients and avoid being "absent" due to the workload?

Profit

Is our current pricing structure conducive to our growth in revenue, profitability and cash flow?

How are the services we provide in line with the direction we want our business to go? (i.e., from compliance to advisory)

How did we get new clients during this busy season?

How have we been serving our ideal clients? Have we taken time to touch base with them?
What is great about a business review is not only do you get to reflect quarterly to measure your progress toward your annual goals, but you can adjust along the way. After answering these questions, if you find that you are not on track to meet your annual goals, a simple way to make adjustments lie in these 3 questions:

What will you start doing?

What will you continue doing?

What will you stop doing?
Going through your own quarterly business review allows you to continue to be the most trusted partner for your clients as you help them make better business decisions. that will not crush their cash flow.

At Finagraph, our CashFlowTool Partner Success team helps accountants, bookkeepers and consultants use our software and cash flow forecasting to impact the three areas discussed above. The CashFlowTool Partner program helps you equip your staff with three core items: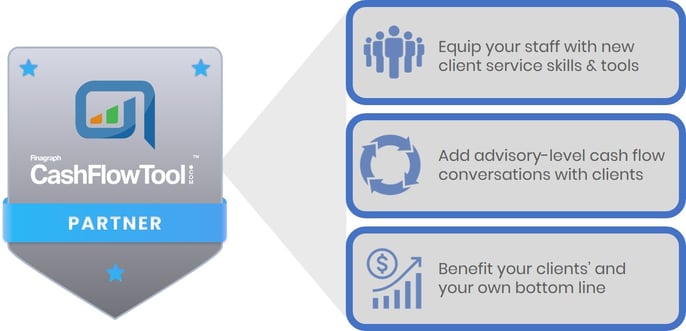 Need help implementing a quarterly business review or would like to learn more about CashFlowTool? Schedule a demo with our team.