Our CashFlowTool team is always hard at work adding new features and we have just released support for importing transactions from credit cards found in QuickBooks (both online & desktop). Enjoy and keep giving us the feedback!
Many businesses pay for business expenses using a company card and pay off the credit card each month. This results in a large cash-out payment to the credit card company each month. Prior to supporting credit card accounts, CashFlowTool would only forecast the monthly credit card payments, but would not show individual credit card transactions.
Now, once a credit card account is enabled, all of the credit card transactions will be included in your cash flow details and chart. CashFlowTool will forecast future transactions creating more transparent forecasts. For example, if you pay your cell phone bill using a company credit card, CashFlowTool will show these transactions and forecast future cell phone bill transactions.
CashFlowTool treats credit card accounts much like cash accounts. When enabled, your starting cash balance will include your ( bank accounts + undeposited funds - credit card balance). Your starting cash balance may not match what is shown in QuickBooks because CashFlowTool is including all credit card transactions in the start cash balance. CashFlowTool's Dashboard cards only take into account your bank accounts and remain unchanged from previous releases.
By default, credit card accounts are not included. To include them, select the gear icon next to the business name and choose the Cash Account tab. Scroll to the bottom to view Credit Card accounts found. Check any credit card account you want to include. After making any changes to cash accounts, you will need to update your financials to see the reflected changes.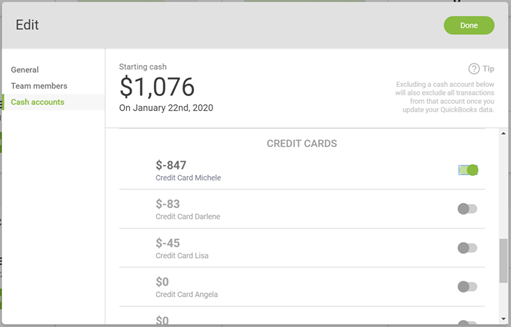 CashFlowTool makes it easy to see your complete forecast including all of your credit card transactions. Happy forecasting and keep the feedback coming!