Have you ever been surprised by expenses? For my personal expenses, I spend time knowing what they are, whether I need them and what the future will look like. Businesses need to do the same and CashFlowTool makes it easy.
Like many of you, I use Amazon to easily purchase virtually anything. It's just so convenient and saves me both time and money and because it is so convenient, I rarely track my overall spend (and maybe I don't want to). After coming home one evening to a porch full of boxes, I decided to check and see how much I really was spending at Amazon.
Before logging into Amazon, test yourself and how close you can come to your actual spending by filling in the blank:

Now that you have estimated what you spent, let's use a hidden feature that Amazon has that makes it easy for you to track your spend over a period of time - do these quick steps:
1. Log in to your Amazon account

2. Select "Your Account" from the menu at the top

3. Select Download order report

4. Select either Last Year or input a date range

5. Download and open the CSV file in Excel

6. Sum the order total column
How did you do? For myself I learned I was spending more than I thought. Surprise! Also, when I looked through the list of items I had purchased, I realized I was purchasing some items I really didn't need at all. Surprise!
Spending more than you realize can happen with your small business too, but with CashFlowTool you can quickly see where you have been spending your money and minimize surprises. Here's how:
View your Cash Flow Details
See how much you have spent for a specific vendor by:
Selecting Cash Flow Details
Select YTD in the chart
Search for the vendor name.

Instantly all previous transactions from the past year are shown with the total amount spent. In the example below you can see I have spent $2,302 last year for City Electric.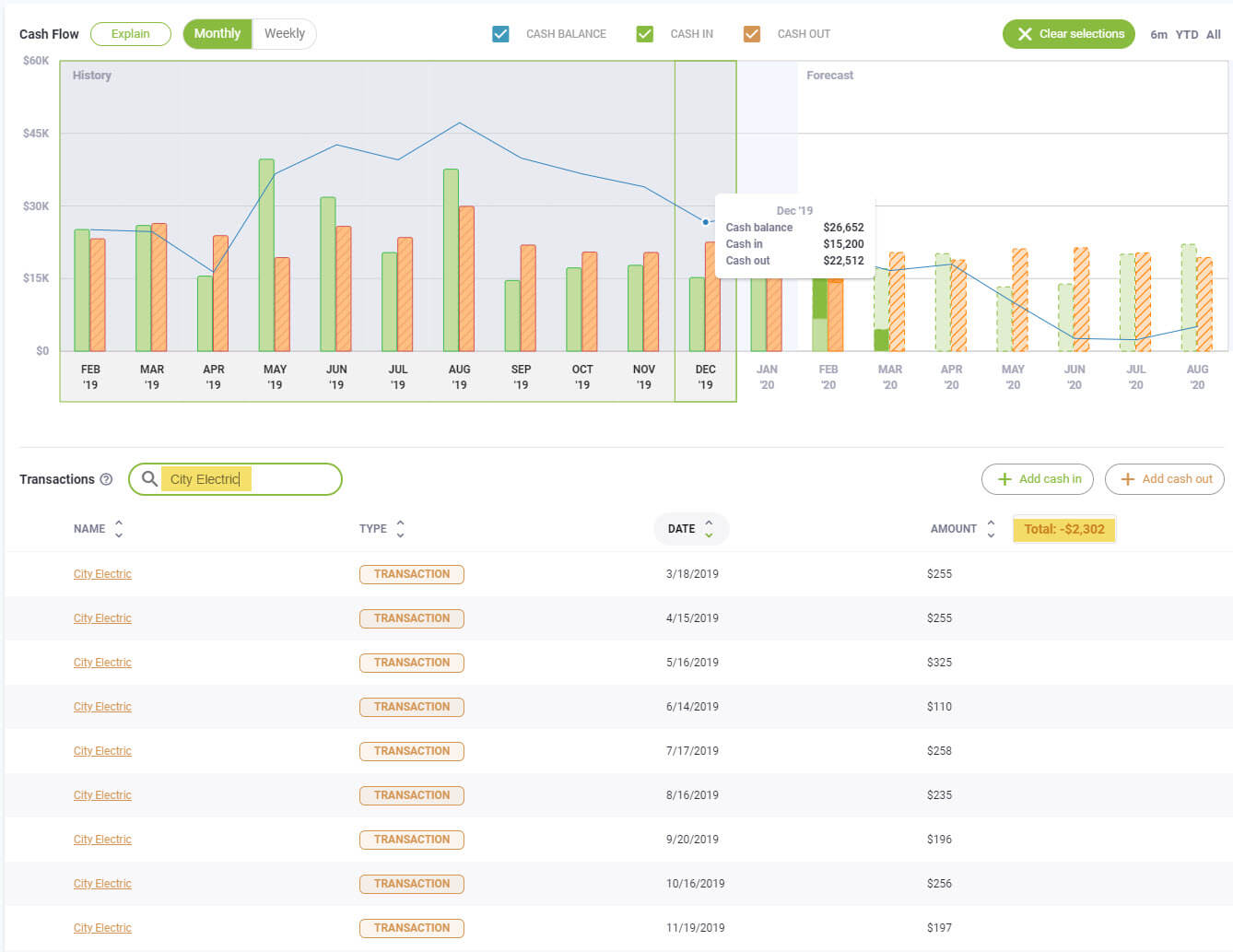 Forecast the future with confidence
You can go one step further and see your estimated cost for the next 6 months. Select City Electric to view the vendor details. CashFlowTool will graph all of the historical transactions and shows the forecasted amount for the next six months.
Wow! Now not only can you see what you spent in the past, but now you can plan for the future.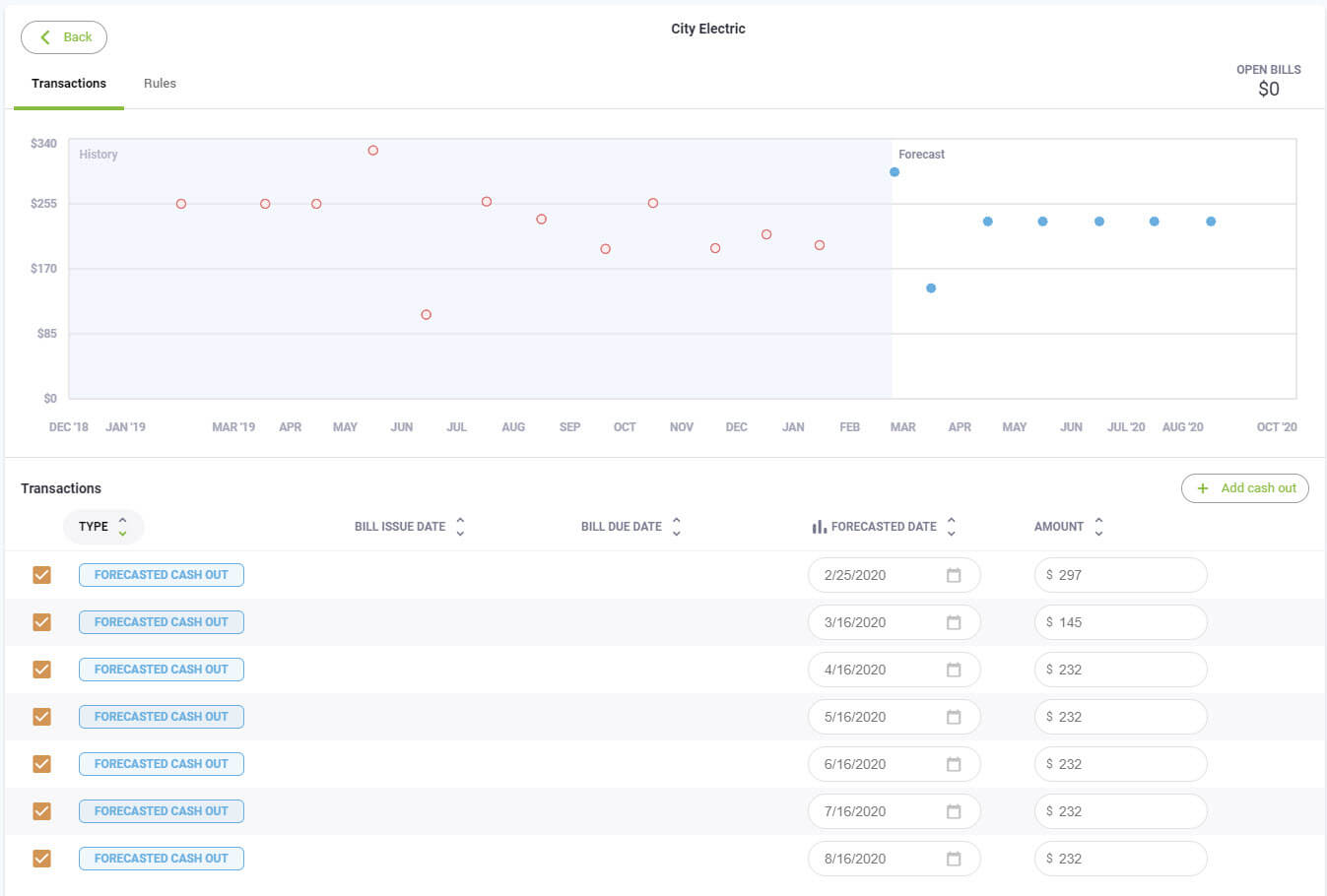 CashFlowTool makes it easy to keep track of your spending, by allowing you to instantly see how much you have been spending per vendor and what you are forecasted to spend in the next 6 months.
See all your expenses in the future so you can plan today
You can go one step further and see your entire expenses that is forecasted for the next 6 months. Simply go to the Cash Flow Details, select all forecasted month on the chart, uncheck CASH IN at the top and you will see a list of all your future expenses (you can also sort based on amount to see the biggest expenses). In this case, my small business is showing a forecast of $121,317 for the next 6 months. Here I can full know my forecasted expenses and make determinations on the impact to my cash flow.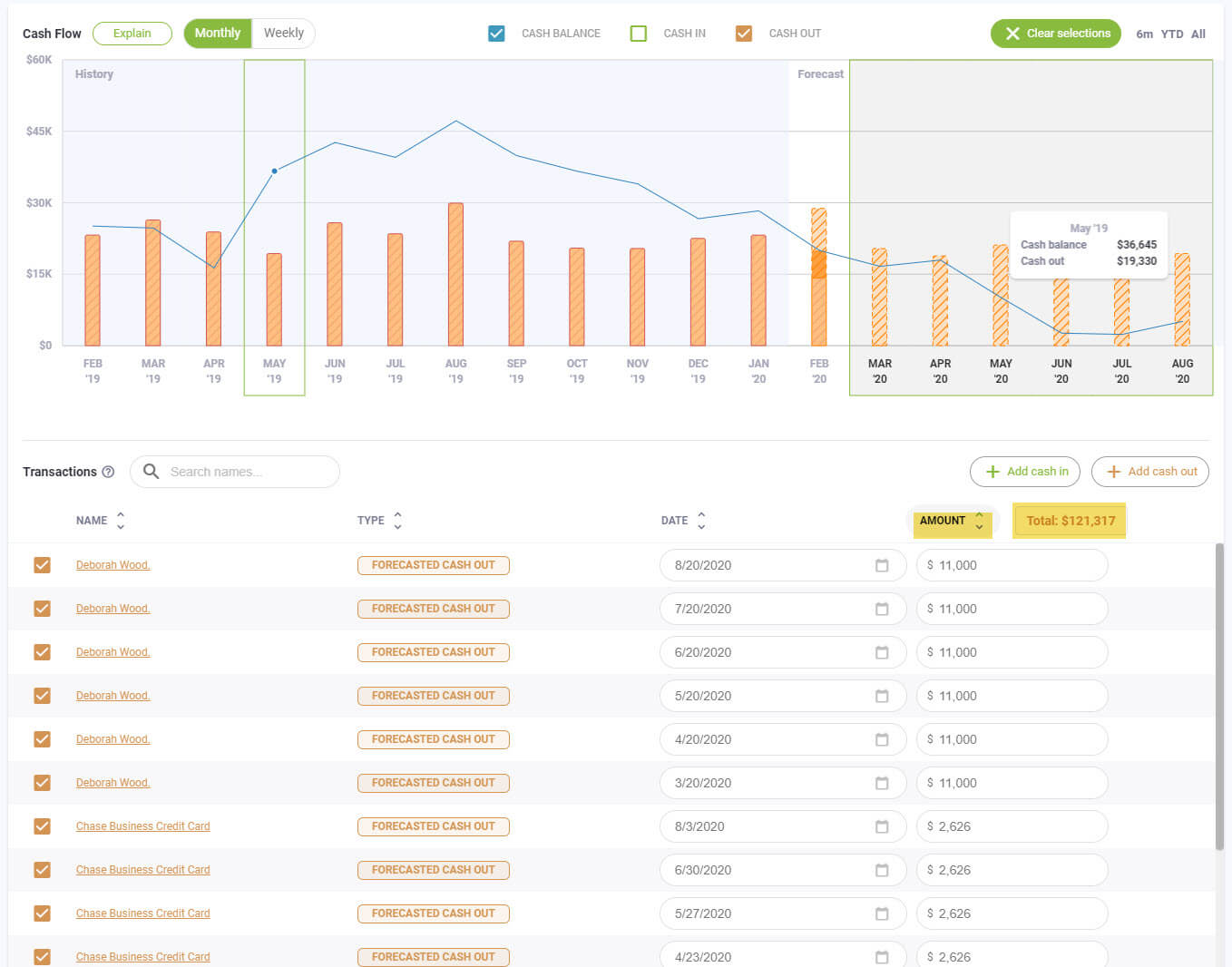 Summary
Don't be surprised by your expense spending. CashFlowTool makes it simple to see your historical expenses as well as your future forecasted expenses. You can instantly see the future and make decisions on your expense expenditures today! Now that's how to run a business!