National Small Business Week is May 5-11 and what a perfect time to think about cash flow which is the lifeblood of every small business.
Are you ready to help every small business with cash flow advisory services?
"For more than 50 years, the President of the United States has issued a proclamation announcing National Small Business Week, which recognizes the critical contributions of America's entrepreneurs and small business owners. More than half of Americans either own or work for a small business, and they create about two out of every three new jobs in the U.S. each year..." (from the Small Business Administration Website)

As a critical part of a small business owner's team, what is the best way to support their business? (Outside of purchasing their products and services)
We have the perfect program for you - the CashFlowTool Partner program which will educate and equip you to become a master in cash flow.

Be their cash flow champion.
A Preferred CFO study from March 2019 showed that 82% of businesses that failed, did so because of cash flow problems.

Now I realize that your clients are currently in business and not all of them are having a cash flow crisis. Maybe none of them are. But let me ask you this – how often are you having conversations with your clients about their business? What is going well? What are they struggling with? Do you know what is keeping them up at night?

Having these conversations will help you establish empathy – understanding your client's challenges, goals and objectives. Doing this creates golden opportunities for you find out how you can best help and expand your working relationship with them.

You will notice many of your client's answers to the questions above will boil down to cash. Either cash they are generating (or not generating) and/or cash that is being used.

Here's a couple of examples:
1. Let's say your client is a construction company who is preparing for their busy time of year. They may be predicting sales volume that is beyond their current capacity to deliver. It is possible that they could sell themselves out of business. They may be planning to hire more team members, move more work to subcontractors or perhaps purchase a new piece of equipment to increase efficiencies.

2. Or maybe your client is an ecommerce company selling outdoor recreational equipment. After experiencing a slow first quarter, they are eager to increase sales. CashFlowTool makes it easy for them to monitor their sales simply by creating a customized dashboard (see picture below). This dashboard enables them to see all of their key sales metrics at a glance and make quick decisions. With CashFlowTool, you can also do "what-if" scenarios such as new advertising spend to drive sales, increasing commissions for affiliates, to name a few.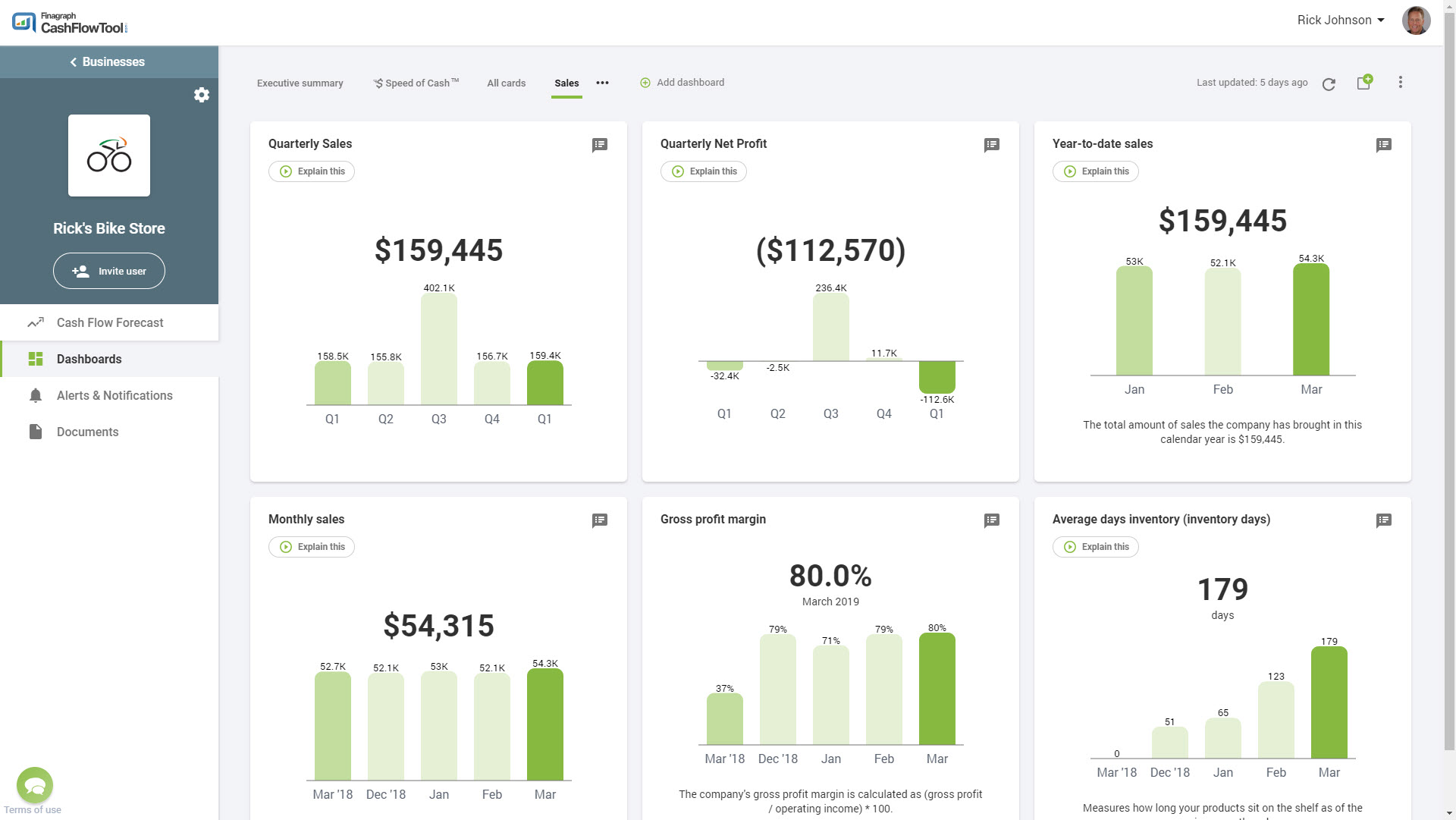 In either client scenario, all options will impact the company's cash position and cash flow, and these decisions will have a ripple effect on the available cash for other similar decisions. Who better to talk them through the numbers and impact than you?

How great would it be for you show them how each of those decisions separately and together would change their cash position and operating cash flow? Without stressing them out. It would also present a great opportunity to begin a conversation with their banker should they need to increase their operating line of credit.

For successful small businesses, forecasting and managing cash flow is an important part of managing their company. For clients who are approaching a busy time of year, they are likely now focused most on increasing sales and managing resources to deliver on those sales. Introducing cash flow advisory services before they are in the heat of their busy season, gives them visibility into potential surprises that are on the horizon.

How can you support your small business clients? Help them grow their business in a sustainable and efficient way. Give them peace of mind that their cash flow will really support the vision they hold for their business. Be their cash flow champion. CashFlowTool is here to help.