Why cash flow management is essential
of small businesses regularly struggle with cash flow 1
of business failures are due to poor cash flow management skills / poor understanding of cash flow 2
of small business owners have been kept up at night by concerns about cash flow 1
only 33% of businesses use a tool or app to manage their cash flow 3
Wakefield Research Survey
Jan 2019 1
Preferred CFO Study
June 2020 2
Ipsos Public Affairs
Spring 2019 3
Seamlessly connects with QuickBooks
The only cash flow software that seamlessly connects with QuickBooks Online and QuickBooks Desktop -- no data entry to start.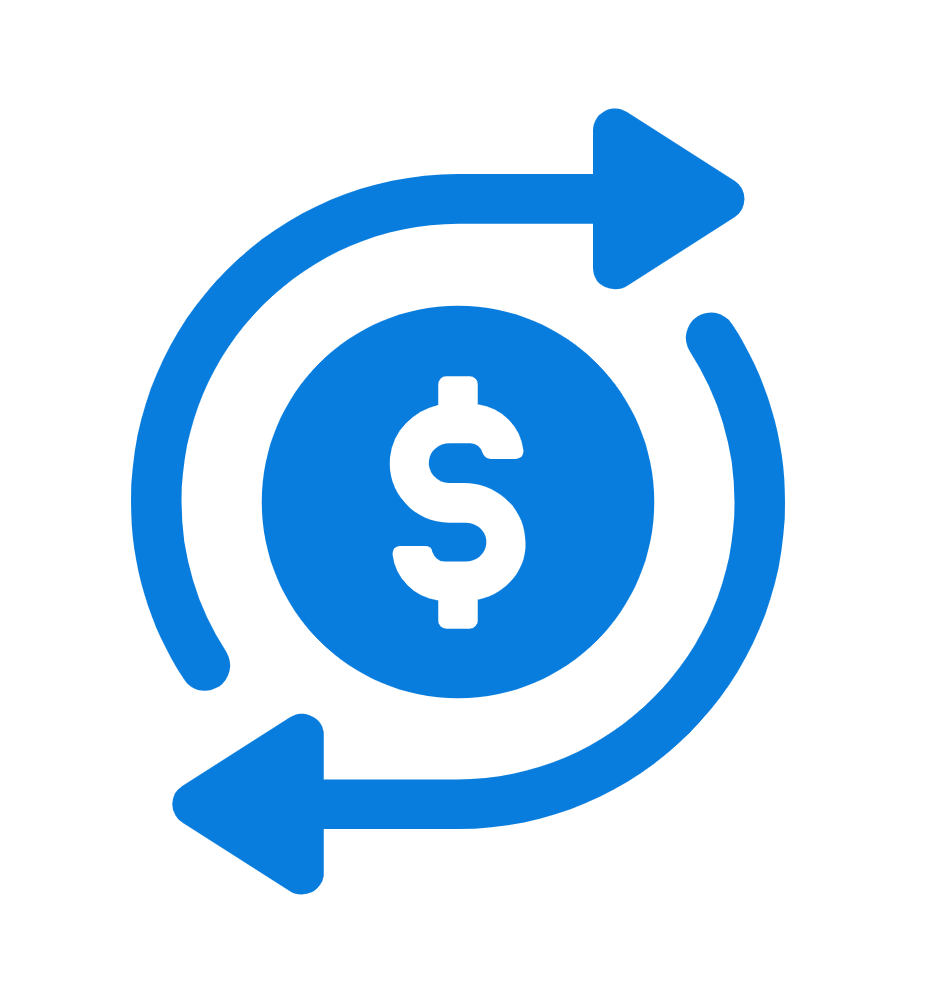 Plan your future cash flow
Instantly see your 6-month cash flow forecast including your income and expenses.
Explore scenarios
Buying new equipment? Starting an expansion? Need a loan? See the cash flow impact before you make the decision.
The must-have companion for QuickBooks Online and QuickBooks Desktop
The only cash flow software that seamlessly connects with QuickBooks Online and QuickBooks Desktop - no data entry to start.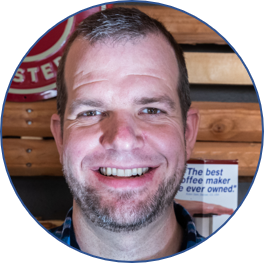 star star star star star
"My favorite QB app.
I haven't found a better tool for predicting cash flow.
I love this tool."
David Evans
Owner
Fidalgo Coffee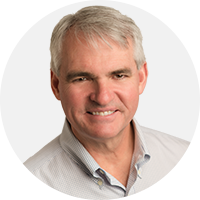 star star star star star
"This is a complete
game-changer! "
Jeff Klaubert
Owner
HealthSource Chiropractic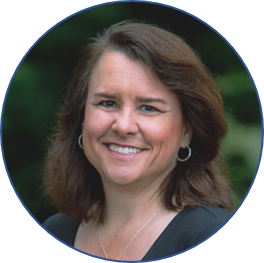 star star star star star
"Best cash flow tool
for small businesses.
Martha Yasso
Owner
Yasso Bookkeeping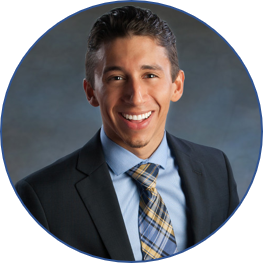 star star star star star
"CashFlowTool is by far the best tool that I've used. It is easy to use, and easy to understand."
Jeremy Tyler
Founder & President
Xceptional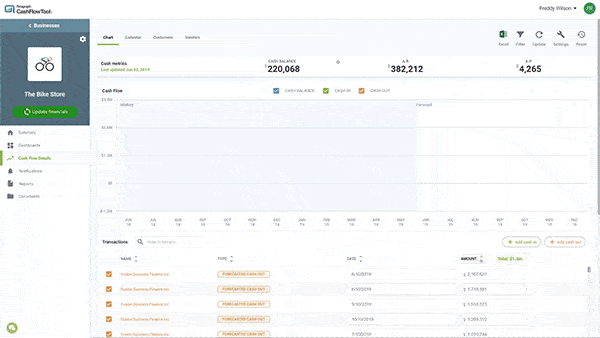 Cash Flow Forecast:
Visually see your future
See your historical cash flow for the last 12 months as well as a future forecasted cash flow for the next 6 months.
See your forecast by month or week by clicking anywhere on the chart to reveal your cash-in or cash-out transactions. Compare a future month to the same month a year ago or find top customers & vendors with a simple click.
LEARN MORE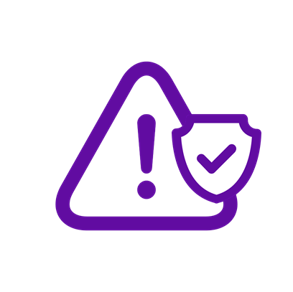 CashGuardianTM
Watches over your business, analyzes your cash details and alerts you to things that actually matter.
No cash surprises
Always know what's coming next
Alerts you to the things that matter most
Surfaces things that actually matter
check
Be alerted to unexpected bills
(like if your water bill is higher than normal)
check
Know when any customer is taking longer to pay than normal
check
Get a heads up about any cash shortages
check
Quick view of next week's total cash in and cash out
check
Checks previous week and the week ahead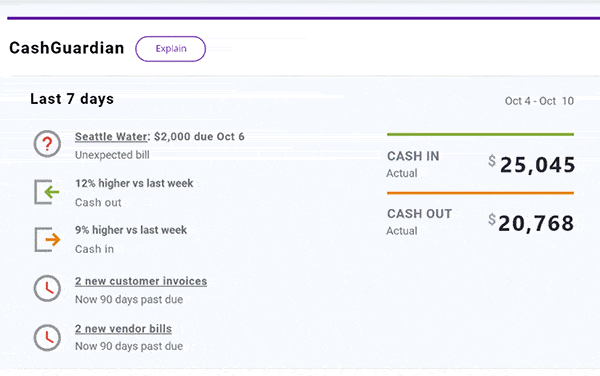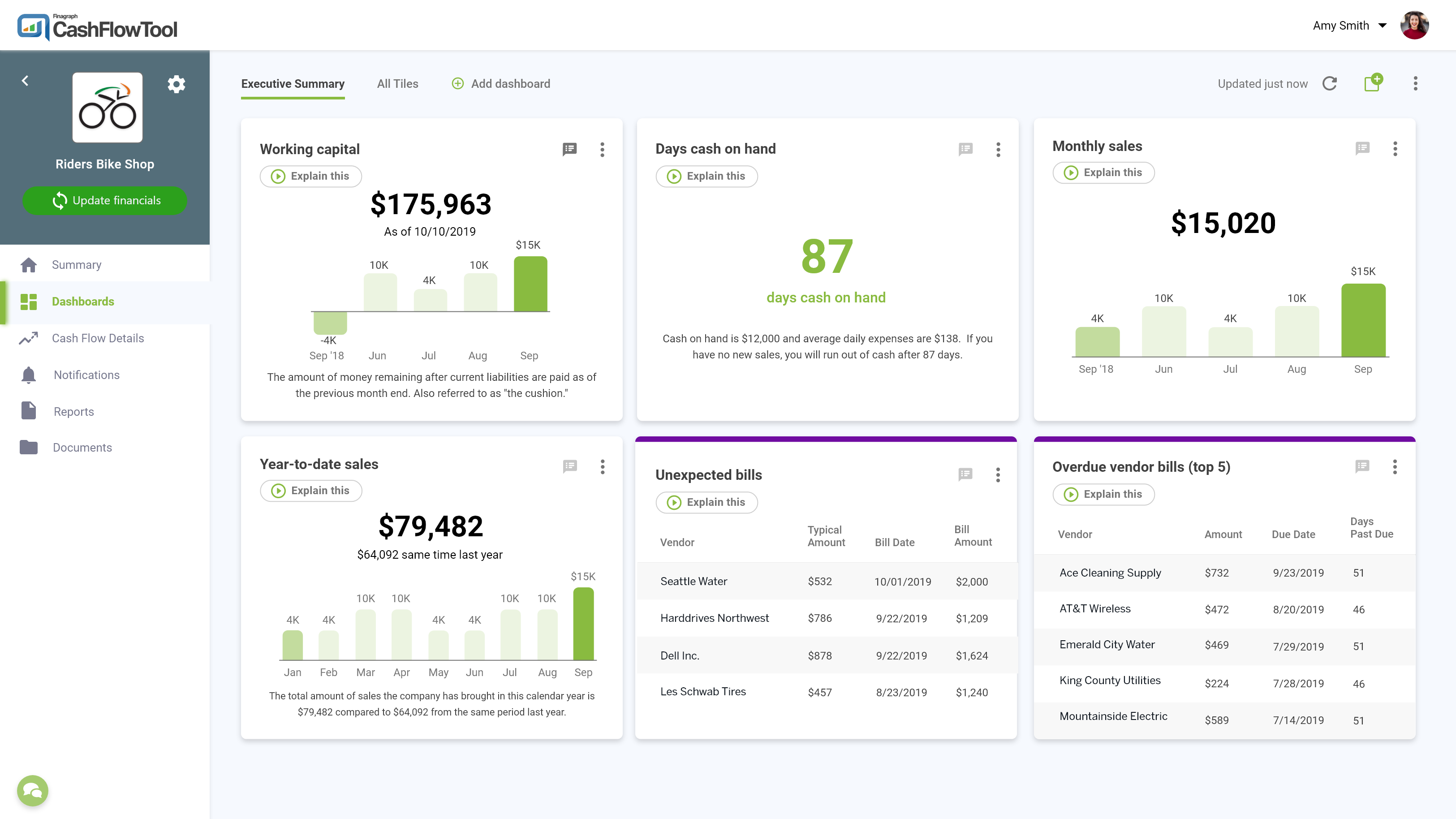 KPIs at your fingertips
See over 30 important business metrics. You can create custom dashboards to suit your business needs, such as a sales dashboard, or a top customers dashboard. It's simple to customize the dashboard with any tiles that you like.
Built-in video coaching
Each KPI has one-click access to built-in video coaching, which explains the concepts in business owner friendly terms and gives recommendations on what to do in key situations.
LEARN MORE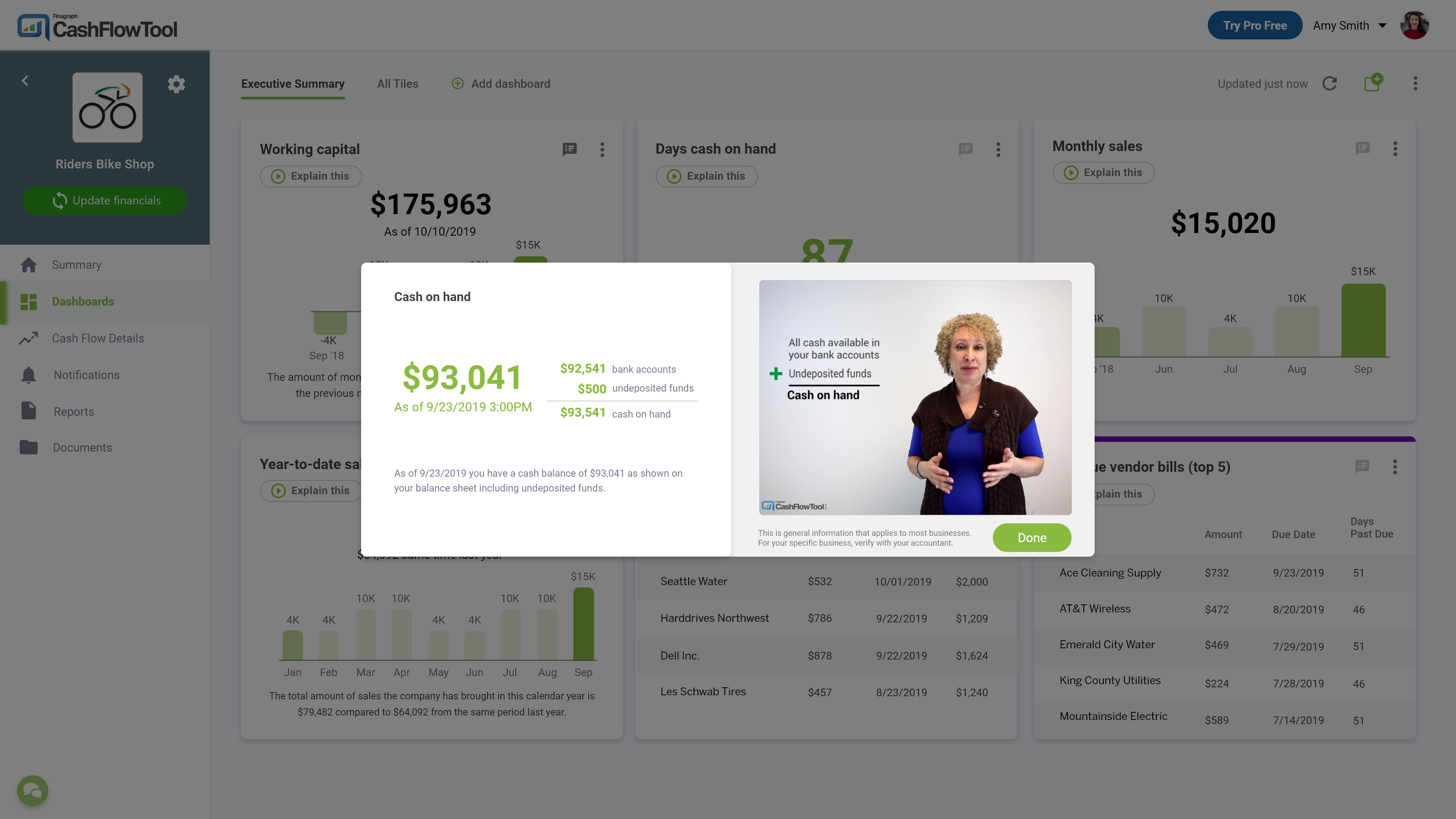 Cash Flow Calendar:
See by the day, week & month
A simple yet powerful heatmap displays shades of green for positive cash balance days and red for any forecasted cash flow shortfalls for a rolling 6 months in the future. You can also quickly perform a powerful what-if analysis to decide the best time to get a loan or when to delay paying a bill, all so you can see the impact on your cash flow.
LEARN MORE
What-if scenarios
Need to hire a new VP of Sales? Upgrade your laptops or cell phones? Hoping to land a contract? See in real-time, the impact of a variety of scenarios to your cash flow.
LEARN MORE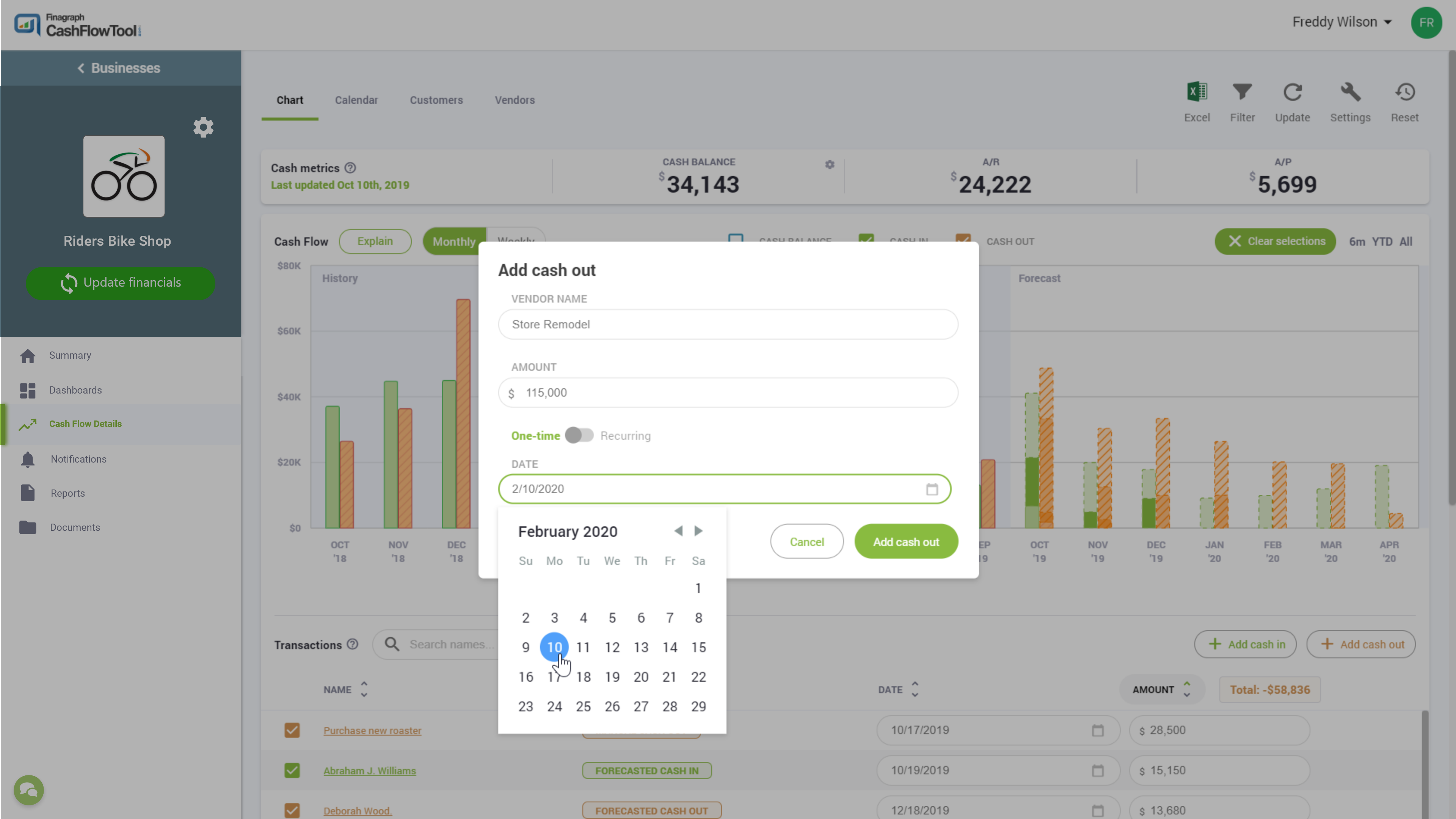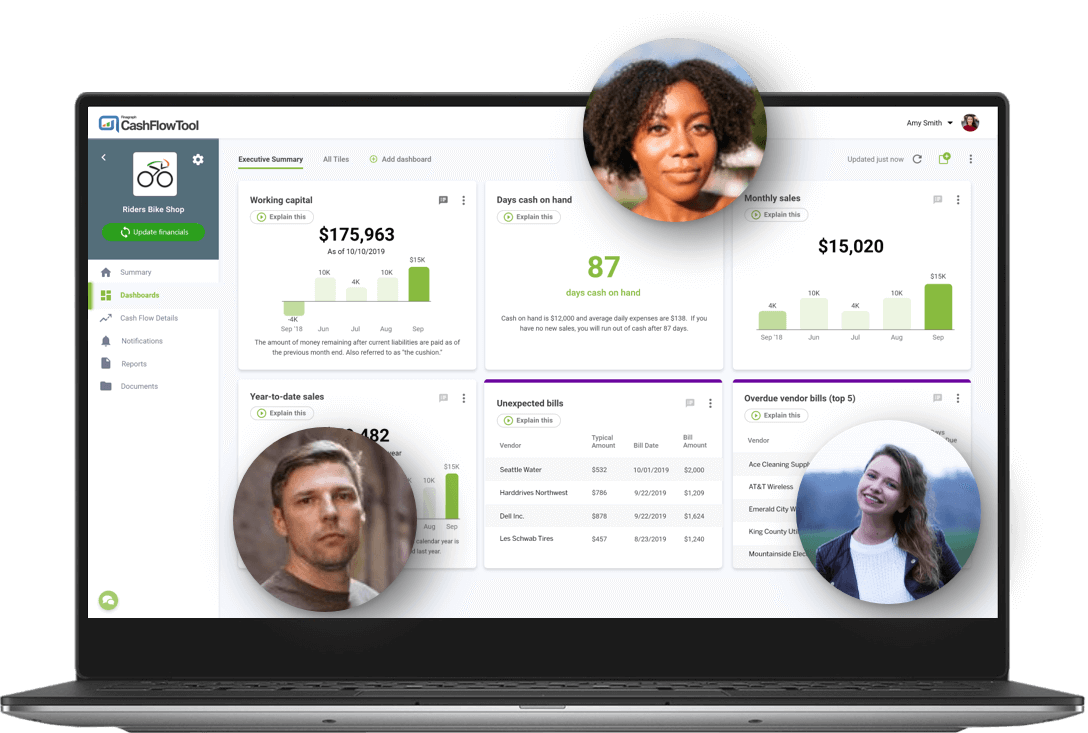 Collaborate with your team
It's easy to add team members, such as your sales and management team, or even your outside accountant so everyone is always on the same page. Team members can comment on alerts, anomalies or cash status, and respond instantly. You can also set permission by team members on all key features such as the Calendar, Dashboards and more.
LEARN MORE
Export your forecast to Excel
Quickly export your forecast to a fully formatted worksheet in Excel, where you can see all your cash-in and cash-out transactions. You can easily add, remove and edit transactions to see the impact on your cash flow!
LEARN MORE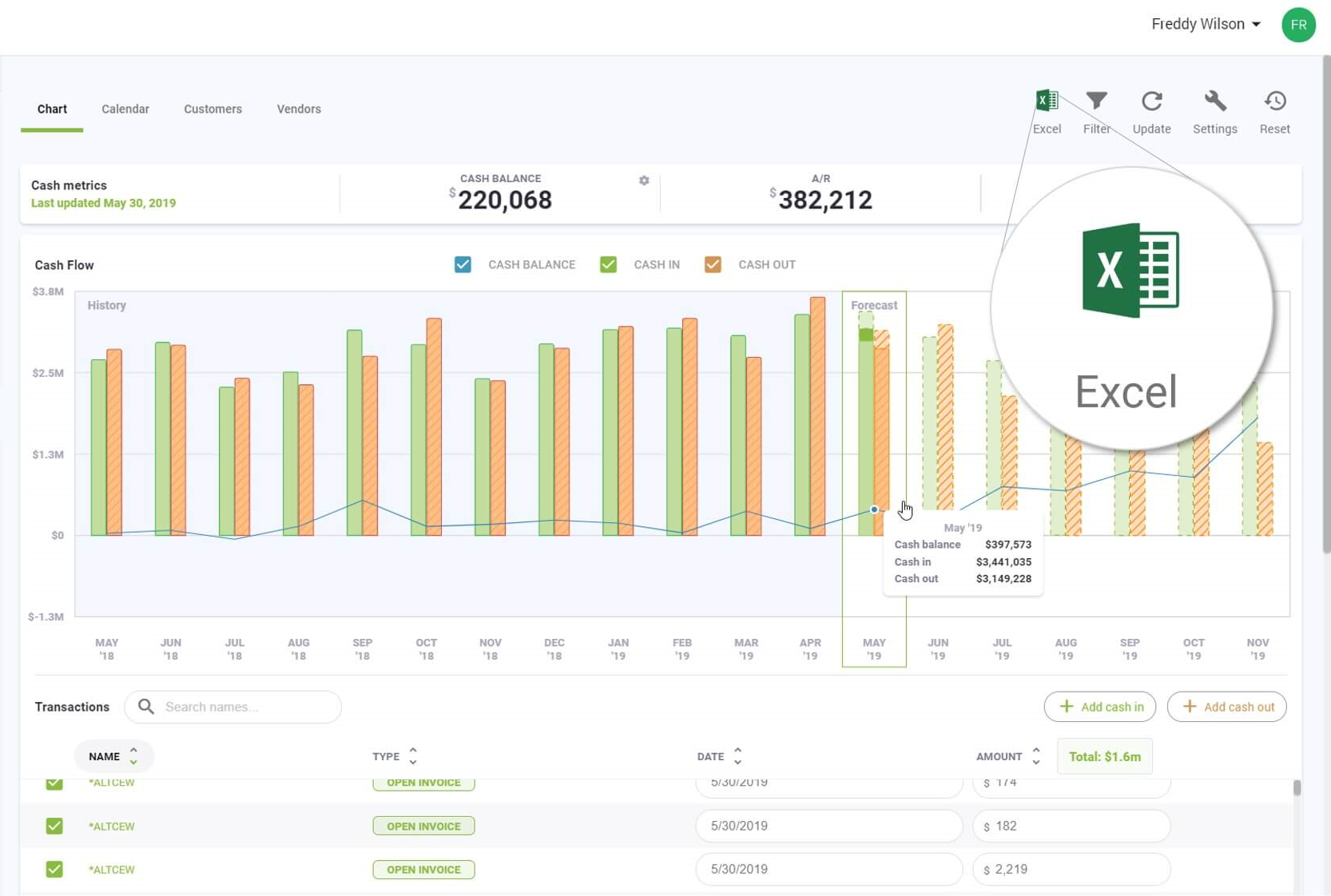 Get 70% off CashFlowTool Pro
for the life of your subscription *
* A valid Visa business card is required
Included with purchase: Business Cash Flow Essentials course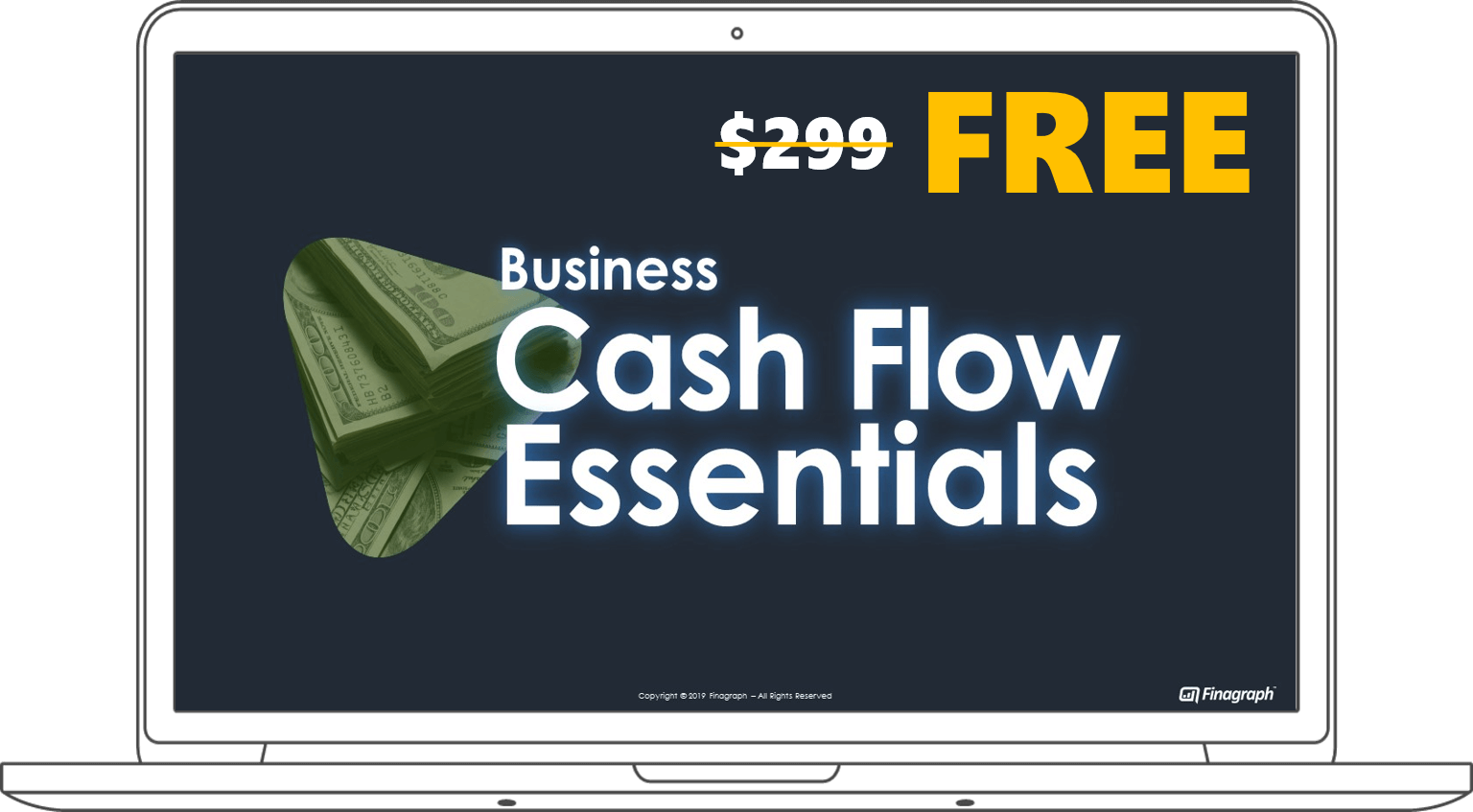 Managing cash is the lifeblood for every business, whether just starting out, growing or declining. It is as much an art form as it is a mathematical necessity in a business.
This course is designed to educate and equip you with critical and essential cash flow concepts that every business needs to maximize their cash flow and profits in a simple, yet powerful way.
Length: 2 hr 30 min
For: Business owners, Business CFOs, Accountants, Bookkeepers, Advisors
Course Fee: $299 FREE
Note: Access to the course will be included in your welcome email.
Don't have a Visa business card?
Explore Visa cards to help you effectively run your business
Learn more
Please fill out the following form to get free access to the Business Cash Flow Essentials course
Please fill out the following form to get free access to the webinar replay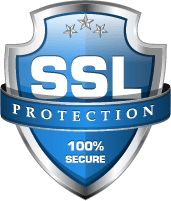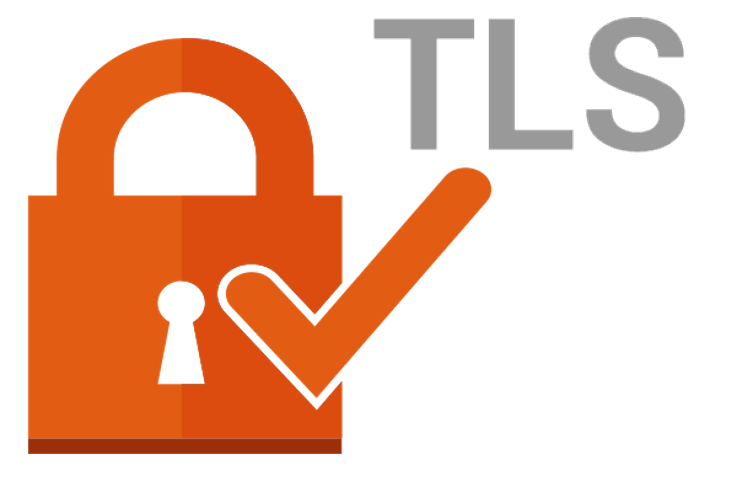 Safe and
secure
CashFlowTool uses bank-level 256-bit SSL and TLS cryptographic protocols to provide communication security over the Internet. This includes authentication and data encryption to ensure customer data is private and always protected.
CashFlowTool customer data is stored on Microsoft Azure which has the industry-leading security built-in
Each Business data has an added level of unique encryption above and beyond Azure's security
CashFlowTool only reads from and never writes back to QuickBooks
We do annual security reviews in conjunction with Intuit to ensure our system is safe and secure
The customer is always in control of their data and can opt-out at any time
Learn more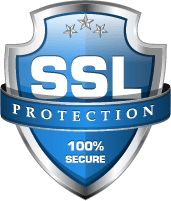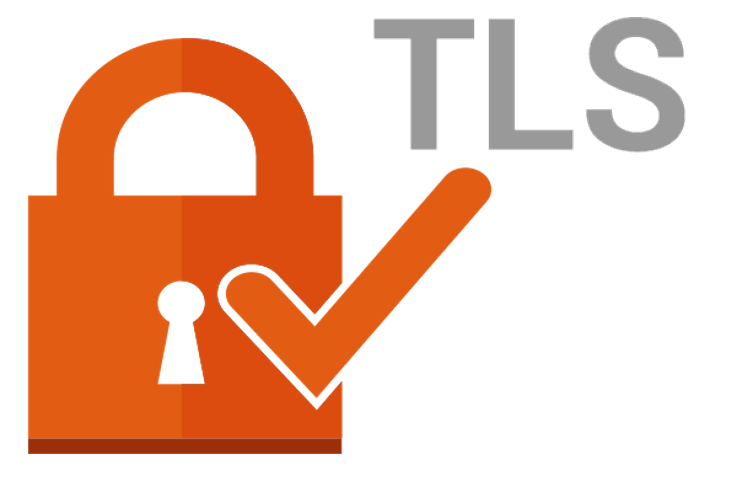 CashFlowTool uses bank-level 256-bit SSL and TLS cryptographic protocols to provide communication security over the Internet. This includes authentication and data encryption to ensure customer data is private and always protected.
CashFlowTool customer data is stored on Microsoft Azure which has the industry-leading security built-in
Each Business data has an added level of unique encryption above and beyond Azure's security
CashFlowTool only reads from and never writes back to QuickBooks
We do annual security reviews in conjunction with Intuit to ensure our system is safe and secure
The customer is always in control of their data and can opt-out at any time
Learn more