Simple, powerful, and predictive cash flow companion for QuickBooks
"It makes you a smarter business owner. I can't imagine not having this."
Maureen Yarborough - SignMatters, Inc
No credit card required. 30-day Trial.
Complete cash flow at a glance
It enables instant visibility on any device, anywhere, of your cash flow, alerts for your unexpected expenses, along with intelligent forecasting so you are never surprised.
No data entry
Instantly and securely connect CashFlowTool.com with QuickBooks and in seconds see your complete cash flow.
Cash Flow Calendar
The Cash Flow Calendar is a simple, yet powerful heatmap displaying shades of green for your highest and lowest cash balance days and reds for any forecasted cash flow shortfalls. You can instantly know when cash comes in and when cash goes out so you can optimize your business.
Know today to anticipate tomorrow.
Cash Activity Feed
See all the activities of your business – cash in, cash out, bills, payments and more.
Your team members can comment on activities so everyone knows the current status and can act right away.
The integrated timeline lets you reference the team's historical comments to recall the decisions made and why.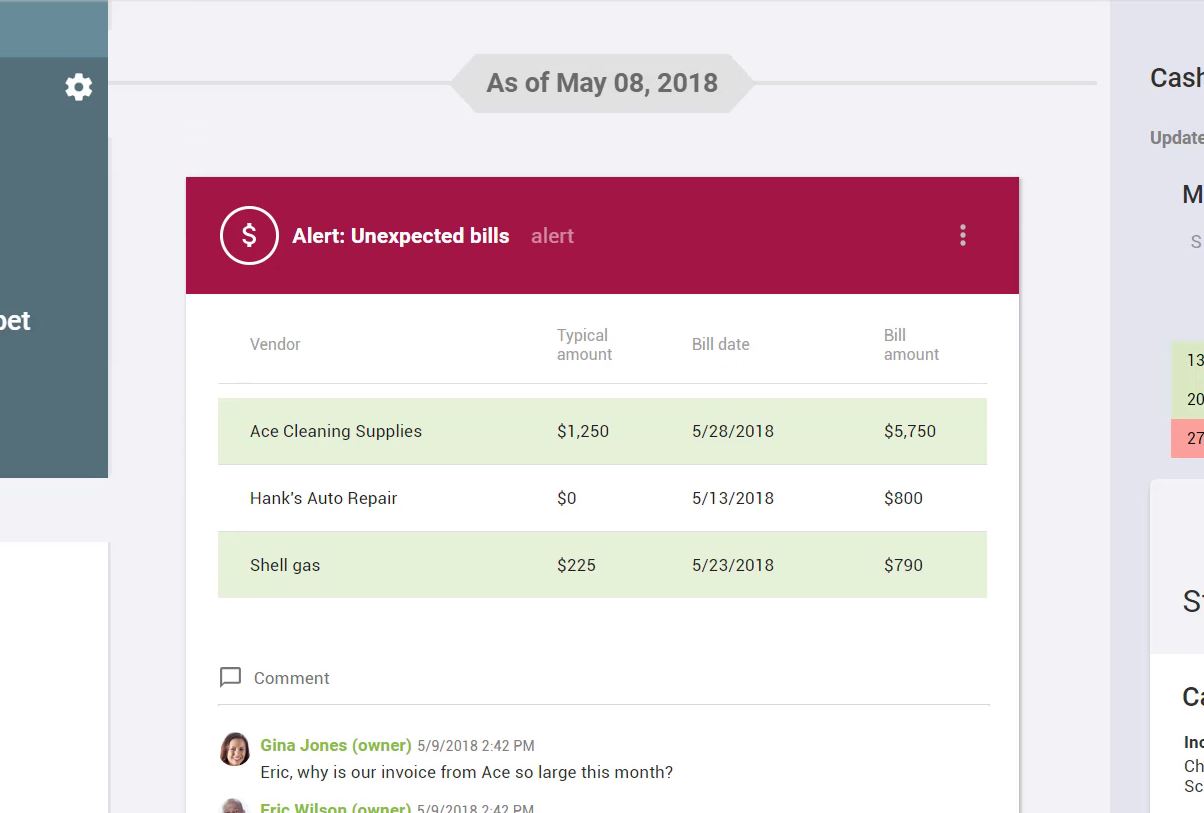 Anomaly detector and alerts
You will know instantly if you get an unexpected bill, a late payment or are almost out of cash and can take action. You can even get alerts on your phone.
Keep your team up-to-date
You can share the information with designated key members of your team so everyone is always up to date.
Immediately comment on alerts, anomalies or cash status and your entire team, including your accountant, will instantly know and be able to respond.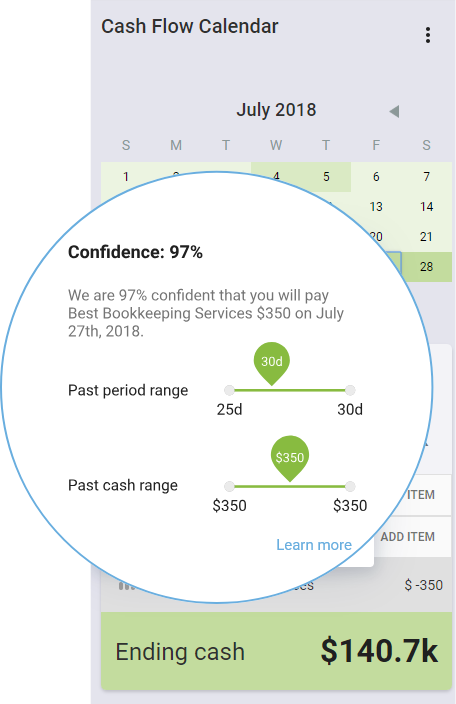 Predict with confidence
CashLearn™ takes thousands of data points from the past 24 months, analyzing trends, timing and transactions to predict the future for you. This technology engine powers the Cash Flow Calendar, Anomaly Detector, and Alerts giving you the future insights you need today.
Daily cash balance forecast
You'll easily see your cash balance for 60 days in the future with clear confidence. CashFlowTool.com predicts your cash-in per individual customer and cash-out for each vendor. This helps you avoid surprises and know your cash flow.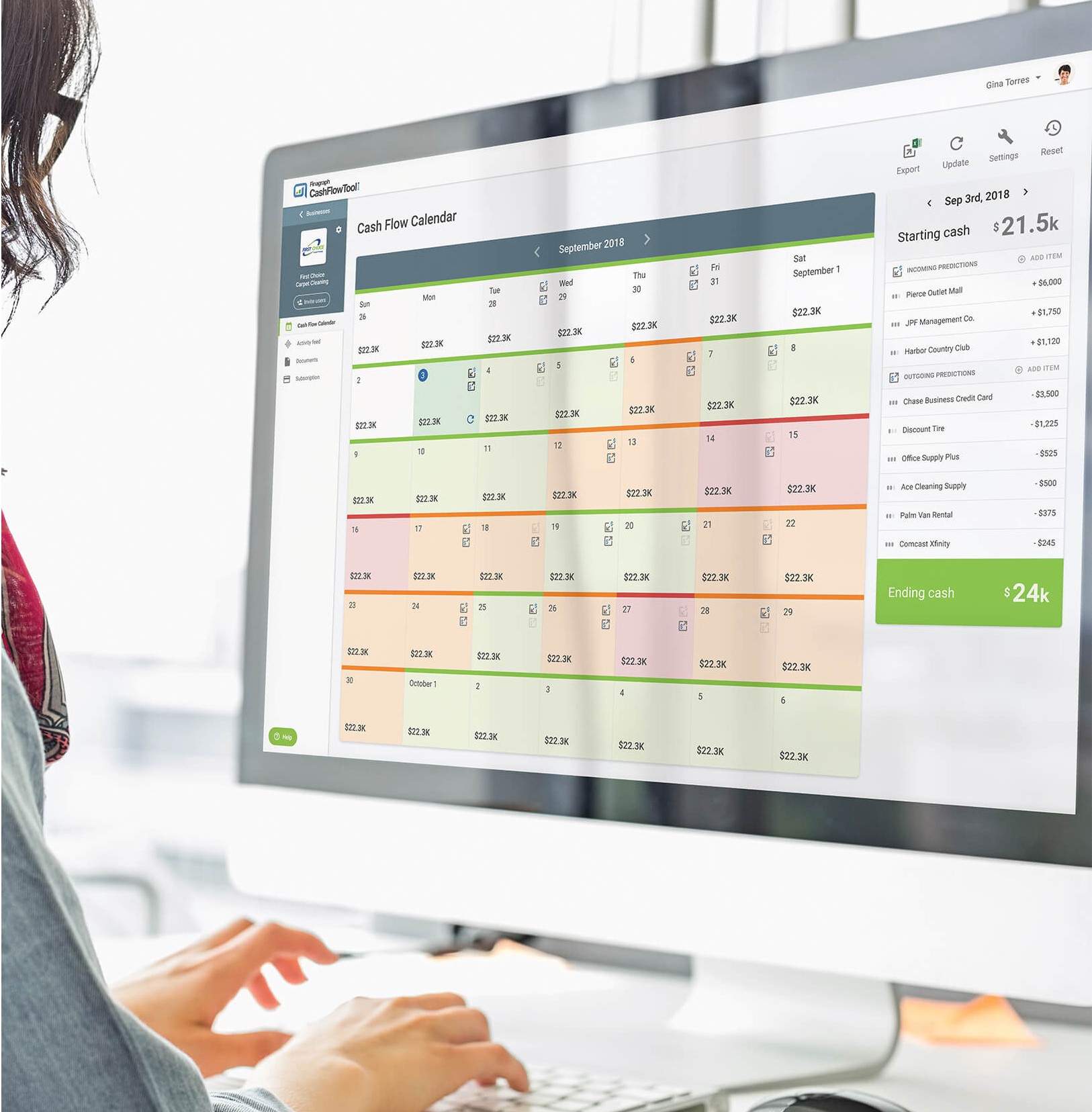 Live "What-If" Analysis
You can easily apply what-if scenarios inside of CashFlowTool.com. You can see the impact of your cash flow in realtime by adjusting dates of bills that are due or seeing the impact if your invoices get paid late. It's simple and helps you to spot issues and take action quickly.
View in Excel
View in Excel makes it easy to see your complete cash flow forecast each week directly in Excel. Unlike other tools which just export data to a CSV file, View in Excel downloads an editable Excel worksheet with formatting and working formulas saving you valuable time.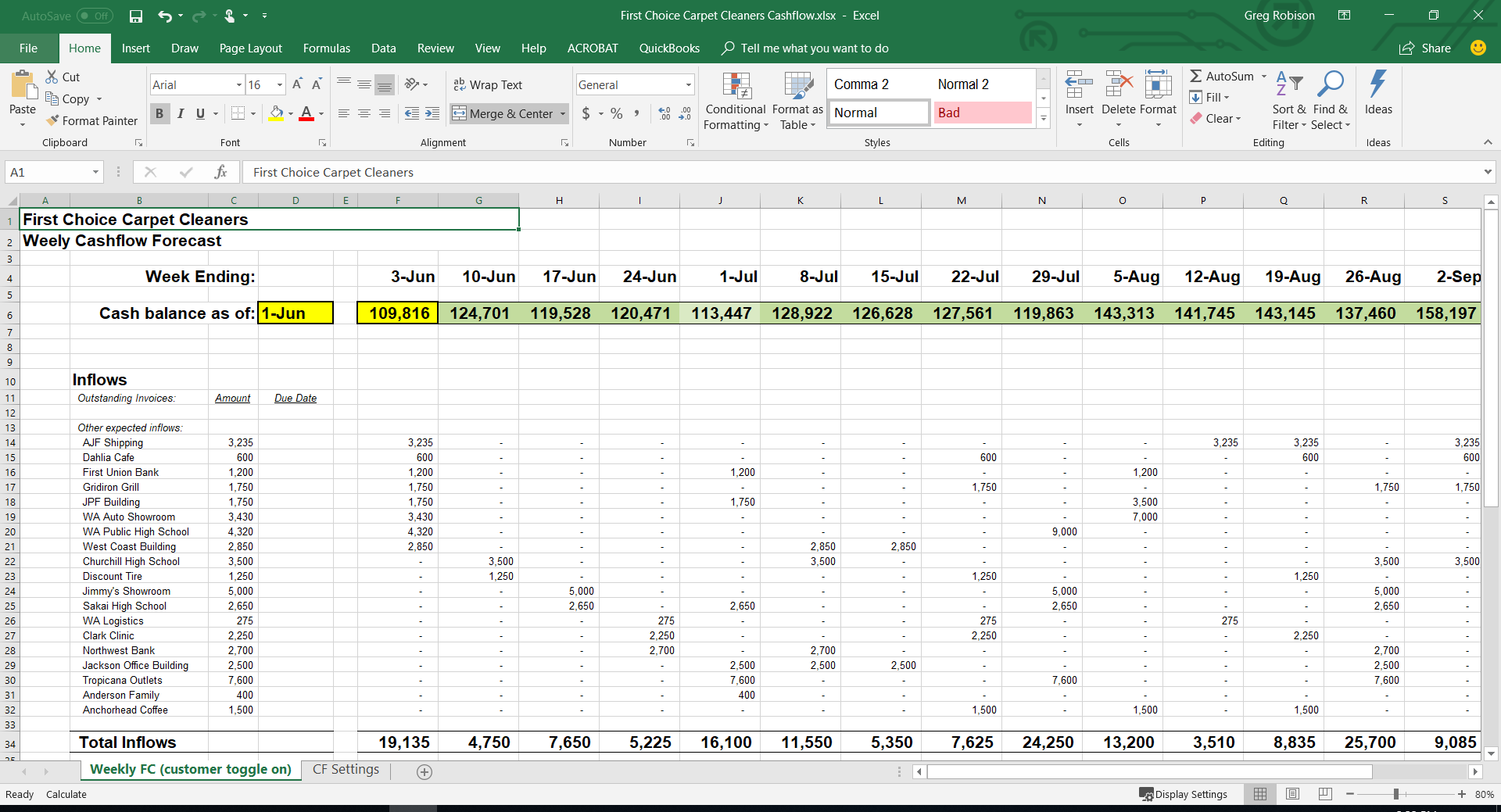 See a demo of CashFlowTool.com
Start your free 30-day trial of CashFlowTool.com today.
No credit card required
See what customers are saying
It makes you a smarter business owner. I can't imagine not having this.
Now that we have implemented CashFlowTool.com with our clients, it has made everybody's lives a lot easier.
I can't imagine going back to the old way and working without it. It's a game changer!
CashFlowTool really helps us as accounting professionals to be our clients' trusted advisor.
CashFlowTool.com presents the information in a way that business owners can easily understand it.
Simple pricing
Small Business Plan


$49
$24
/mo
per business
30-day Free Trial – No Credit Card Needed
TRY FREE
Unlimited users
Cash Flow Calendar and Heatmap
Live What-if Scenario Forecasts
Cash Activity Feed
Financial Anomaly Detection
Alerts and Push Notifications
1TB Secure Document Storage
MARQ Business Credit Score
Schedule Automatic Financial Updates for QuickBooks Online
Easy team communication
Accountant integration
Insights from our founder James Walter on why we built CashFlowTool.com
82% of small business failure is due to cash management issues.
Hear directly from James on why we built CashFlowTool.com how it can directly empower small businesses everywhere to fully understand how to easily manage cash flow.
Start your free 30-day trial of CashFlowTool.com today.
No credit card required
Safe and secure
CashFlowTool.com uses state-of-the-art security measures including bank level 256-bit SSL encryption. We adhere to a strict information security policy to ensure your data is always protected.
Complete QuickBooks integration
QuickBooks Online
Complete online support.
QuickBooks Desktop
Local and hosted environment support.